The Vision Fitness T9500 Treadmill – Rugged, Sturdy, Dependable
The ability to customize features gives the Vision Fitness T9500 treadmill advantages over competitor models. The option of choosing the console layout and amount of programming allows you to "create your own vision" for your training needs.
The Machine
While some people will be happy with the Simple console that does little more than change speed and incline, users who want more programming and features, like heart rate control, can chose either the Deluxe or Premier console.
The specs on the Vision Fitness T9500 treadmill base unit include: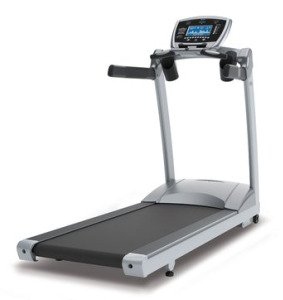 3.0 CHP Cambridge Motor Works™ motor
3.0 Digital Drive system
0.6-12 mph Speed
0 - 15% Cambridge Motor Works™ Incline
20" x 57"running area
350-lb. User Capacity
Warranty: lifetime frame & motor, 5 years electronics & parts, 1-year labor
The 3 different consoles allow you to pay for only what you want:
Simple: A blue LED display shows readouts for speed, time, distance, calories, pace, heart rate, and incline. A contact heart rate readout is included but there are no programs installed.
Deluxe: A blue backlit LCD display with the same readouts as the Simple console, it also has average speed and percent of heart rate. Contact and telemetric heart rate monitoring are also included. Programs include 4 classic programs, 3 goals, 3 heart rate, 5K, 10K, and 5 custom.

Premier: A full-color LCD display with ATM-style buttons. It includes the same readouts as the Deluxe console as well as contact and telemetric HR monitoring. Programs are the same as the Deluxe and it also includes a 15k workout and 2 more classic programs.
Both the Deluxe and Premier consoles also have an intense 20-minute workout called SPRINT 8. This program automatically adjusts the speed/incline according to the level selected: Level 1 for beginners through Level 17 for fit individuals.
The Buzz
UPDATE: The Vision T9500 model has been discontinued and is no longer available.  Check out the latest Vision treadmills to find a comparable model. 

The Vision Fitness T9500 treadmill is a big and beautiful 260-lb machine built with quality components: heavy gauge steel welded frame, 2.5" crowned rollers with large O.D. bearings, an extra-thick 4.4mm orthopedic belt, 1-inch pre-waxed phenolic deck, 8 variable-durometer Elastomer Cushions in the Shock Absorption system, and a cool-running Cambridge Motor Works™ 3.0 hp continuous duty motor.
Reviewers have made the important observation that these are well-designed, low maintenance treadmills. Vision Fitness, owned by Johnson Health Tech which also makes Horizon treadmills, is in the same price class and mid to high-end category as Life Fitness and Landice.
Some people even find the cushioning on a Vision to be superior to a Landice costing thousands more. However, the price increase this year on the T9500 and other Vision machines is causing potential buyers to experience sticker shock.
What We Say
This is a rugged, sturdy, and dependable treadmill that can be customized to your style of training. If you're an experienced runner who doesn't need programs, spend just $2,299 for the basic treadmill and Simple Console.
Others who need more motivation, can go all out with the Deluxe (+$300) or Premier (+$500) console. There is a Vision Fitness T9500 treadmill that's bound to fit your style of training.