The Trimline T360 Treadmill - a Good Choice for the Casual Walker
You will like the Trimline T360 treadmill if you are just starting to exercise and finding how easily you can get your daily dose of cardio.
While we can't fault the outstanding warranty, the powerful motor, or the cushy deck, the appearance of the T360 isn't going to attract the hard core treadmill enthusiast. It does come with a heart rate monitor and roomy running area, but the features are just basic. But is the Trimline T360 really the better investment when compared to other treadmill brands?
The Machine
The Trimline T360 treadmill is a quiet, respectable, mid-priced machine, ranging in price from $1,100 (if on sale) to over $2,000, that offers a variety of features including: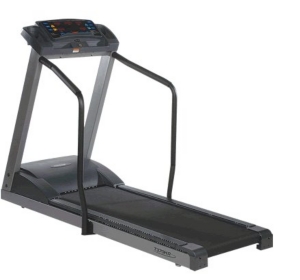 2.7 HP motor
11 mph max. speed
12% max. incline
20" x 57" running area
8 workout programs
Wireless chest strap monitors heart rate
350 lbs. max. user weight
Oversized, 2 window LED display
REACT ® Absorption deck cushioning technology
30 year warranty on frame and motor
3 year warranty on parts, 2 years on labor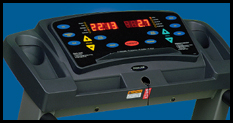 The Buzz
UPDATE: Trimline treadmills are no longer being produced.  Check out our Best Treadmills $1000-$2000 section to find a comparable model.
The simple design of the Trimline T360 treadmill looks almost retro, but not in a good way. It reminds you of the treadmills you saw at the gym — 15 years ago.
You can't dog the motor on these Trimline treadmills for reliability but, overall, better value can be found elsewhere. The T360 is okay for daily walkers; it should not be considered for use by serious runners.
Most users don't mind the plainness of the Trimline T360's design, but they do mind that the motor housing is too close to the running area directly under the control console.
If you tend to hit the front of your shoes on the plastic shroud just above the deck this could be a problem. You want the plastic housing for the treadmill motor to be well out of kicking range as you run or if you tend to take long strides while walking.  

What We Say
Standing behind their Trimline treadmills with a 30 year warranty, the company is proud of their motor design and believes it will give you reliable performance year after year.
But while this seems like a promising model as a mid-priced machine, it has the same niggly economy look as less expensive Trimlines.
The Trimline T360 treadmill is overpriced if you have to pay more than $2000, but could be considered a good choice if you are a casual walker purchasing your first treadmill.
Show me other Trimline Treadmills