The Trimline T340 Treadmill - Sturdy Machine/Quality Parts
The Trimline T340 treadmill is one of the best of the company's products and should continue to be a good performer now that Nautilus owns the company.
Trimline is a relative newcomer in treadmills, but they based their reputation on sturdy machines with quality parts. When Nautilus bought the brand, they continued in this vein although there are rumors that their treadmill line may be phased out over the next few years.
The Machine
The Trimline T340 treadmill is priced at about $1,500 although you can often find it on sale for anywhere from $1,200 to $1,400 if you shop around. For the price you get a good solid treadmill that will last you for years, including: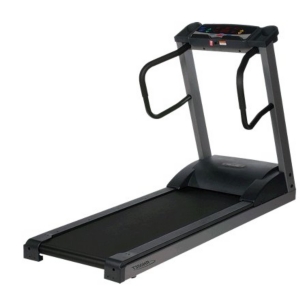 2.0 HP continuous duty motor
2.5" rollers
20" x 57" running deck
10 mph maximum speed
LED console display
12% incline
275 lbs. user weight capacity
SoftTrack II deck cushioning
6 pre-set programs, 2 customizable
6 Quick-Set speed keys
Warranty: 30 yrs. on frame and motor; 2 yrs. parts; 1 yr. labor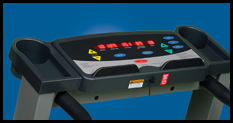 While some machines will give you a larger motor than the Trimline T340 treadmill, the 2.0 HP on this model is sufficient for all walkers and most runners unless they are really pushing it for true marathon-style training. It's also one of the best motors in the business with a warranty to back it up.
The Buzz
UPDATE: Trimline treadmills are no longer being produced.  Check out our Best Treadmills $1000-$2000 section to find a comparable model.
The Trimline T340 treadmill is consistently ranked high by fitness experts when they do consider it. Sadly, many don't because it isn't as well known as several other treadmills at this price point.
Pros approve of the generous size of the running area and the smooth incline adjustment, which earn the Trimline T340 points for ease of use.

People who own a Trimline T340 say that the SoftTrack II deck cushioning is in that "just right" range that provides a soft footfall and comfort without feeling like you're being sucked down into sand. They also like the design of the treadmill's LED display, which is attractive and intuitive.

What We Say
The rumors could be wrong and the Trimline treadmills could be around for years, but Nautilus has been pushing their other brands more lately and allowing this brand name to take a back seat.
If so, the price on the Trimline T340 could drop in the near future, making it a real bargain since it's a well-built, high quality machine.
The Trimline T340 treadmill isn't sleek and fashionable, but it's reliable and the warranty is great – with 30 years on the motor and two years on parts, you'll be protected by Nautilus regardless of the future of the name.
Show me other Trimline Treadmills