Treadmill vs. Exercise Bike: Two Options for Cardio Workouts
If your goal is weight loss and overall fitness, and you are weighing the treadmill vs. exercise bike buying decision, then perhaps a few pros and cons to the issue will make the choice a lot easier.
The difficult argument in trying to compare the treadmill versus stationary bike workout is that they offer different attributes. The choice will depend on factors such as your age, overall health, and preference.
It's not as dramatic as comparing apples to oranges, but then again, there's no comparison of a weight-bearing exercise vs. staying seated while doing a fitness workout in order to see which offers the most benefits.
Advantages of the Exercise Bike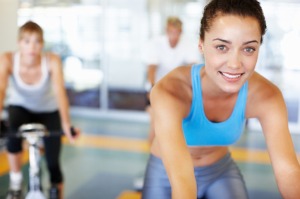 There are several "pros" to owning a home exercise bike: you can do interval training on the newer models, it's a smooth ride, it is easier to read a book or magazine while seated, and a bike will be much cheaper than a treadmill with the top price of an elite model costing around $1,500.
The odd advantage to a stationary or recumbent bike is that it is not a weight-bearing exercise so it is ideal for individuals who need support and must be seated. Those that are injured, extremely overweight, suffer with arthritis, or are extremely out-of-shape should choose the exercise bike.
Disadvantages of Exercise Bikes vs. Treadmills
As for the "cons" of the exercise bike, the first drawback people think of is the sore butt if the saddle or seat isn't comfortable. Another is that riding causes local fatigue in the legs before you get tired overall. Another disadvantage is boredom. Riding a bike was a thrill as a kid, but an indoor stationary bike is drudgery to a lot of folks who really don't like riding bikes, wheels or no wheels.
Intensity (or lack of) is another matter. Unless you push yourself and dial up the resistance, a bike workout will not be as effective as a cardio exercise as running on a treadmill would be, especially if you get distracted and pedal at a leisurely pace. It is difficult to maintain a target heart rate zone pace on an exercise bike vs. the treadmill pace.
Also, the bike not only works muscles in a different way than the treadmill, it omits an important one: the glutes. The butt muscles do not get the full benefit of a good workout because, well, you're sitting on them! While the hips and legs do all the work on the bike, the glutes "sit it out."
Advantages of the Treadmill: the Bone Builder
As for the pros of the treadmill vs. the exercise bike comparison, the first and foremost to mention is that the treadmill is a weight-bearing exercise so it offers bone building as well as muscle strengthening benefits. Weight-bearing workouts improve your bone health and density, which greatly reduces the risk of osteoporosis and hip fractures.
The large muscles in the legs and butt require a lot of energy to move while walking or running and this activity raises your heart rate giving you a good cardiovascular workout. In addition, you can increase the treadmill's incline to further target the work of the hamstrings and the muscles in the back of the legs as well as the glutes. The motion of walking also effectively helps to slim the abdominal muscles.
Lastly, a treadmill burns about 40% more calories than can be done in the same amount of time/intensity on an exercise bike.
Personal Preference is the Deciding Factor
If you are going to be working out at home, you will first consider space requirements, as well as what your budget will allow. After that, though, it will come down to a personal preference when choosing between the treadmill vs. exercise bike.
Both are solid, reliable pieces of equipment with advanced features to help you keep track of your weight loss goals. Ideally, you might want to spend some time on both machines if you have the opportunity, and see which one you like best.
Keep in mind that intensity is necessary for achieving cardio fitness, and maintaining bone density by doing weight-bearing exercises is important to prevent osteoporosis. For those reasons, the treadmill gets the edge.