Treadmill Rentals are On the Rise
More Americans are turning to treadmill rentals every year in an effort to stay fit while saving money. While you may decide to purchase a machine right off the bat, there are good reasons for renting one first.
If you aren't sure a treadmill is the right machine for you, or you aren't sure you will use it regularly enough to make it worth the investment of hundreds or even thousands of dollars, renting will give you the chance to test drive a machine at home.
If you discover you prefer using a treadmill at the gym or that you get bored quickly using an in-home machine, you've only lost a few months of rental fees when you return the machine.
Get More for Your Money with Treadmill Rentals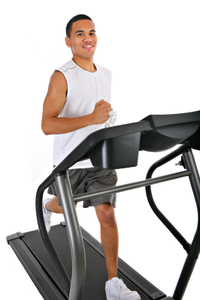 By renting you will also get you a much better machine than you might otherwise be able to afford. Most companies that rent treadmills for in-home use carry top of the line, commercial grade equipment by manufacturers such as Sole, Life Fitness and Precor. These are the same top quality treadmills used in hotels, gyms, and fitness clubs around the world.
One excellent example of this is the Sole Fitness line. These are the treadmills currently found in luxury hotel guest rooms owned by Omni and Hilton hotels.
These companies have chosen Sole treadmills for their impressive durability and longevity; they can take the beating of multiple users with no problem. They are also extremely quiet with a smooth ride and very little need for repairs.
If two of the top hotel chains rely on Sole treadmills for their guests, you can bet that a Sole treadmill will give you outstanding performance at home.
If you've been working out on a professional grade treadmill at a health club or gym, you may be used to the superior performance of a commercial grade machine.
If this is your dilemma, treadmill rentals are the perfect way to get superior performance for less. Most of us can't shell out several thousand dollars for an at-home treadmill, but you can rent or lease one for a much more reasonable monthly fee.
Easy Payment Options
There are usually two options for renting a treadmill – you can pay month-to-month for as long as you use the machine, or you can rent to own. If you pay month-to-month, it may be slightly higher in cost, or you may need to make an additional initial fee for delivery and maintenance costs at the beginning of your contract.
A rent to own option allows you to start using your treadmill right away but pay for it in installments. If you decide you don't want to keep the treadmill at any time, you can return it and cancel the contract.
One of the best online fitness equipment retailers is Big Fitness. They offer treadmills by the top names in the industry and will work with you to determine the right model for your needs.
They also offer monthly rentals and rent to own options. You can check out their website for more information on available treadmill rentals.