Buy a Treadmill with Free Shipping: A Perk that Keeps Money in Your Wallet
When shopping for a new treadmill free shipping and other added perks should be taken into consideration as part of the deal.
Since these machines typically weigh 225 pounds or more, paying a standard freight charge starting at $125 can drive the cost beyond your budget.
You can choose to take advantage of this nice benefit and pocket the money, or use the money you saved on shipping to buy more treadmill than you thought you could afford, or you can opt to extend the warranty on your purchase.
Whatever you decide to do with the savings, it's a nice little bonus that not all companies offer.
Let's take a look and learn more about treadmill shipping costs...
Shipping Policies For Treadmills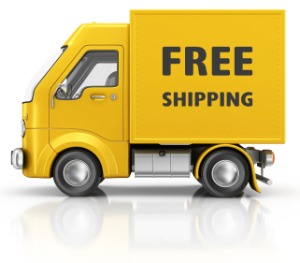 Take the time to check out the shipping policies of the treadmill dealer ahead of time. Luckily, there are no hidden charges and you will be told up front all the details required for freighting heavy equipment.
It is important that you know that Residential Delivery means the cardio machine will be delivered off the back of the truck, but that's all.
It will be up to you to round up friends to help you carry the box into the house, or to unpack the treadmill and carry it in. The driver will not help you.
You can also opt for Inside Delivery, which usually carries a nominal charge of $75 or $100.
While it is still free treadmill shipping, the added cost is a good choice for many single people or couples who anticipate a problem with bringing the machine indoors.
With this option, the treadmill box will be carried inside to the room of your choice (usually with a limit of one flight of stairs).
You will need to assemble the treadmill yourself, but anyone who can handle a screwdriver will have no difficulty putting a treadmill together in about 30 minutes.
The final option is called Turn Key Delivery or White Glove Delivery, depending on where you buy.
Fees range from $150 to $250 for the treadmill to be carried in, unpacked and assembled in the room of your choice, and tested. The technician will also take away the boxes and packing material for you.
So Who Offers Free Shipping?
Here are the current policies of the most popular treadmill brands:
NordicTrack and ProForm offer free shipping on most models to your front door.  However, certain treadmills including the X22i Incline Trainer have a small shipping fee attached.
They offer curbside (free), threshold, room of choice and full assembly options. You can read about those here.
Sole Fitness also offers free shipping to your home as long as you are in the continental United States, and also offers Ground Inside and Turn Key options, for $99 and $239, respectively.
Note that Sole also comes with no sales tax as well everywhere except Utah and California.
Johnson Health & Fitness, makers of Horizon, Matrix and Vision treadmills, offers free shipping and will bring the machine inside for you to the first available ground floor level.  They don't leave it outside, which is a good thing.
Bowflex often offers free shipping on their TreadClimber, treadmills, Max Trainers and other exercise equipment.
LifeSpan offers free shipping everywhere except for Hawaii and Alaska, and has inside, room of choice and white glove delivery for an additional $49 to $229, respectively.
Other brands like Life Fitness offer free shipping from time to time. TRUE will delivery for free to a local dealer, but you have to pick it up yourself, or choose one of their paid residential delivery options.
Pretty much all of the major brands either offer free shipping all of the time or just some of the time.
The only current exception is Precor, as they charge $199 for treadmill delivery.  But that includes installation, so it's definitely worth it.
Shipping Charges Waived with Full Payment
You will also find a treadmill with free shipping if you buy online at retailers such as Amazon, which features brands like Weslo, Sunny, Exerpeutic, LifeSpan and some of the models from the brands above.
There are many more online merchants offering free shipping now than in years past, as well as financing options that can really make the cost of a new treadmill palatable.
So take a look at all of the shipping policies for the brands you are considering.  With free shipping, payment options and special sales and deals you can really save a lot of money on your new treadmill.
Free Shipping On Your Treadmill - Bottom Line
If you're buying your new treadmill from any of the major brands, chances are you can take advantage of free shipping.
However, if you can't easily get it inside and up or down that flight of stairs to your home gym, then you might want to opt for one of the paid services if they are offered.
After lugging the heavy machine, and then putting it together for a few hours, you might find yourself saying "Why didn't I just pay the extra $150 and have them bring it down here and set it all up for me?"
But if you can handle the whole job yourself, or with a helper, then by all means go for the free curbside delivery.