The Star Trac S-TRc Treadmill – Listed on Many Best Buy Lists
The Star Trac S-TRc treadmill is the upgraded machine over the S-TRx and S-TR. It has the 5 hp AC motor, additional programming, and compatibility with the Star Trac entertainment solution systems featuring a 15-inch LCD screen.
The Machine
The console includes dedicated readouts for time, distance, incline, speed, and heart rate, a large 8-character message window, and a ¼ motivational track profile.
The specs of the Star Trac S-TRc include: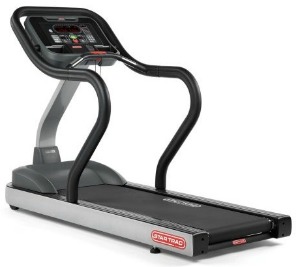 5.0 hp AC motor
0.5 – 12.5 mph Speed
0% to 15% Incline
20" x 69" Running area
13 Programs
Pre-wired for optional entertainment solutions
Pulse Grip & Wireless Polar Telemetry
Soft Trac® Triple Cell Cushioning System
Adjustable Cooling Fans
Power: 110V dedicated NEMA 5-15RA cord
500-lb. User Capacity
Wt / Dimensions: 450 lbs / 81" x 32" x 58"
Warranty: 5 years motor, 3 years parts and labor
Compare Popular Star Trac Treadmills at Amazon
The Buzz
The Star Trac S-TRc treadmill features a strong 5.0 hp AC motor with a 5-year warranty that delivers a speed range of 0.5 to 12.5 mph in 0.1 mph increments, plus 3-inch rollers, Star Trac's triple cell neoprene rubber cushioning system for maximum shock absorption, and a reversible 1-inch thick composite fiberboard deck that needs no maintenance.
With a 500-lb user weight capacity, the deck can elevate up to 15% (in 0.5% increments), and features both Polar telemetry and contact heart rate monitors, plus two fans with adjustable speed settings to help keep you cool.
The 13 programs include Dynamic Heart Rate Control, Constant Heart Rate Control, Calories, Increase Endurance, and Fitness Test (Modified Balke Ware).
The Star Trac S-TRc is pre-wired for the S-Series entertainment system (optional) that features a 15-inch LCD screen, NTSC/ATSC digital TV tuners, coaxial cable port, and integrated control keypad.
What We Say
The exceptional clean lines, quality electronics, commercial frame, and strong components make the Star Trac S-TRc treadmill an interesting choice at $5,899 despite the rather weak warranty for a high-end machine.
Nevertheless, you will find this model is a top pick among all reviewers and it is listed on many Best Buy lists.
If you have deep pockets and are considering only the best investment for your home gym, you'll love this elite treadmill.
Show me other Star Trac Treadmills