The Star Trac Pro 4500 Treadmill – Buy Refurbished and Save $$$
The Star Trac Pro 4500 treadmill is a commercial grade model that can be purchased as a remanufactured treadmill for an eye-popping 60% to 70% off its original retail value.
The Machine
The Star Trac Pro 4500 treadmill console has an Intelli Trac display matrix to deliver readouts for time, speed, distance, calories (total and per hour), laps, pace, incline and heart rate. The programs include nine user-specific workouts, fitness test, dynamic heart rate control programs, plus club-level programs such as Trekking™ and Personal Trainer Studio™. A telemetry chest strap is included as standard equipment.
The specs are: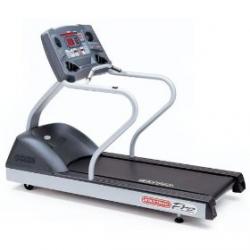 3.0 HP DC Motor
20" x 62" Tread Belt
0-15% Incline in 0.5% increments
0.5 to 12.5 mph in 0.1mph increments
Polar telemetry strap included
Contact heart rate monitors
Soft Track Tri Cell Suspension System
3 Entertainment/data ports
3" Crowned Rollers
350 lb. Weight Capacity
Weight / Dimensions: 350 lbs / 34" x 63" x 85"(WxHxL)
Warranty: 3 yrs motor, parts, and labor
The Buzz
UPDATE:  The Star Trac Pro 4500 treadmill is no longer available.  Check out the most popular models on sale here.
The Star Trac Pro 4500 treadmill features a cool-running and quiet 3.0 hp continuous duty direct current (DC) motor, large 3" precision-crowned rollers with sealed bearings, and a commercial size 20" x 62" tread belt. The patented Impact Absorption System (IAS) includes tri-cell neoprene cushions along both sides of the deck to cushion the impact on joints in the legs and the back.
Speeds range from 0.5 to 12.5 mph in 1 mph increments, and elevations range from 0% to 15% in 0 .5% increments.
Other features of the Star Trac Pro 4500 include curved arm supports, two integrated fans, cup holders, rubber coated handrails, a wrap-around aero bar, and digital heart rate monitoring for HR control programs.
Treadmill reviews on all of the elite Star Trac models are favorable with the exception of the weak warranty. Most treadmills at this price point come with a 10-year parts warranty and lifetime motor coverage. Check out Landice and Life Fitness treadmills for better coverage on home machines.
What We Say
The Star Trac Pro 4500 model retails new for $5995, and can sometimes be found on sale online for around $3575, or you can get a refurbished model starting at around $1800.
Buying a remanufactured treadmill is one of the best-kept secrets on the treadmill market as the machine is literally disassembled and rebuilt, recalibrated, and new wear parts installed by a certified technician.
They are mechanically and electronically sound so that the machine performs as good as new. If you want a quiet, smooth treadmill with "club feel" from the world's best-selling commercial treadmill maker, you will enjoy the Star Trac Pro 4500 treadmill.
Show me other Star Trac Treadmills