The Star Trac 4000HR Treadmill - Buy Remanufactured & Save!
Although the Star Trac 4000HR treadmill is no longer produced, as a remanufactured machine it is a sought-after piece of equipment by home users. Star Trac began production of treadmills in 1974 and their machines have been found in health clubs and athletic training facilities ever since.
Why are they so popular? They are expensive, high-end machines geared toward heavy commercial use (they have one home gym model, the TR901), so when users can find a remanufactured Star Trac 4000 HR at an affordable price, they are snapped up.
The Machine
The Star Trac 4000HR treadmill features a beautiful 10" x 21" graphics display that can change from terrain profile to a running track display at the touch of a button. Other features include: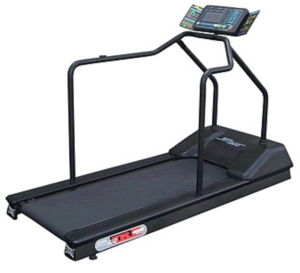 2.5 HP motor
10 mph max. speed
15% max. incline
20" x 60" running area
2 piece floating deck to enhance shock absorption
8 workout programs
300 lbs. max. user weight
30 days parts & labor warranty
The Buzz
UPDATE:  The Star Trac 4000 HR treadmill is no longer available.  Check out the most popular models on sale here.
For around $1600, the Star Trac 4000HR treadmill is a powerful, health club quality machine with an improved motor (25% more power), and these remanufactured treadmills on the market today come with warranties ranging from 30 days to one year on parts and labor.
What more can be said? Owners of the remanufactured Star Trac 4000HR like the price and the fabulous features which include an assortment of workout options, and a solid non-wobbly feel.
Replacement parts, such as the treadmill belt and deck can cost up to $500 or more on a quality treadmill, which is why users are attracted to a reconditioned machine which can be had for well less than $2000.

What We Say
It's an interesting dilemma choosing between remanufactured treadmills or new ones, rather like the choice of buying a used BMW in excellent condition or a brand new Toyota Camry.
A remanufactured Star Trac 4000HR nothing to be wary of! Each treadmill is rebuilt so that they not only look near new, but perform as new. Worn parts are replaced, the metal frame is powder coated, electronics are serviced and inspected, the drive motor is rebuilt, the belt is replaced and so on.
You get the same Star Trac 4000HR treadmill as if you had bought new but with a short warranty and a lot of extra dough still tucked in your wallet.
Show me other Star Trac Treadmills