The Schwinn 840 Treadmill – There are Better Choices
The Schwinn 840 treadmill is intended for people who tend to make snap decisions when making a big purchase without first doing their homework.
Standing alone it might seem like a decent machine but it is a model that is trying to catch up to the competition.
Let's get right into our review and take a look at this cardio machine...
The Machine
The Schwinn 840 treadmill has a multi-color backlit LCD dual window display that shows speed, distance, workout time, incline level, and burned calories.
The 16 programs include 6 course profiles, calorie goal, custom workouts, and QuickStart. The distance readout can be switched from miles to kilometers.
The specs on the Schwinn 840 include:
2.5 HP Motor
0-10 mph Speed
0 – 10% Incline
20" x 55" Walking Area
16 Workout Programs
Grip heart rate sensor
Softrak™ suspension deck
Folding SoftDrop™ System
Transport Wheels
Reading rack and water bottle holder
300-lb. User Capacity
Warranty: 5 yrs frame, 10 yrs motor, 1-yr parts, 90 days on wear parts & labor
Compare Schwinn Treadmills at Amazon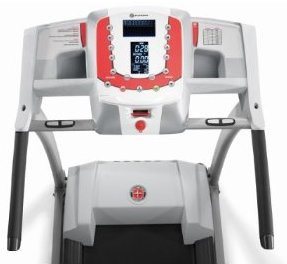 The Buzz
UPDATE:  The Schwinn 840 is no longer available for sale.  It has been replaced by two brand new Schwinn treadmills.
Both of the new models are a big improvement on the 840, which is definitely a step in the right direction as this model had a lot of issues.
You now have the 830 and the 870, both with more features and capabilities.
The 830 gives you a 2.75 CHP motor, up to 12 mph speed, 12% incline and 22 built in workout programs.
The 870 gives you a 3.0 CHP motor, up to 12 mph speed, 15% incline and 26 built in workout programs, plus a larger running area.
Both models offer grip and wireless heart rate monitoring (not present on the 840), and the 870 even adds Bluetooth workout tracking.
Take a look at both of those treadmills if you want to stick with Schwinn.
Though improved over the 820 treadmill model, the $799 Schwinn 840 still suffers from an overwhelming display of plastic everywhere and cheap looks overall.
Its features are the minimum standard for an $800 machine: 10 mph speed, 10% incline, 2.5 hp, a 300-lb user capacity, heart rate sensors, and an average size walking area for this price range.
If you can get past the ugly console display, the Schwinn 840 is actually decent as a walking machine – not great, nothing spectacular, no "wow" factor, but decent.
High points: treadmill reviews report it is easy to assemble, runs quiet, has a nice variety of programs, and the frame is heavy (285 pounds!) providing a stable platform.
Low points: short warranty, average quality, and the Nautilus buzz.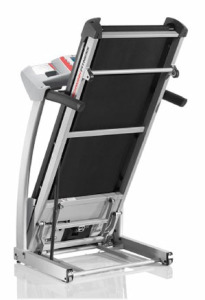 Schwinn 840 - Bottom Line
Since its parent company, Nautilus, is in dire straights financially, you have to take it on faith that there will be a company there to honor your limited warranty should anything go wrong.
Schwinn makes great indoor cycles and ellipticals, so perhaps Nautilus will focus on supporting the Schwinn brand, but there are too "ifs" involved to even consider buying a Schwinn 840 treadmill right now.
Check our best treadmill $500+ chart where you will find a number of better choices between $700 and $1000.
Editor's Note:  The Schwinn 830 and 870 are big improvements over the 840.  Although not as good as some of their competitors' offerings, they're definitely better than they were and worth a look.