Reebok V 8.90 Treadmill With Built-In Weight Loss Center - User Experience
by Lorfious
(California)
BEWARE!! The Reebok V 8.90 treadmill is GARBAGE!

Ordered the unit, waited two weeks to get it and when it arrived it DID NOT WORK! So... I called the manufacturer and asked for a refund.

They told me they could get another unit out "immediately" so I said fine, send it. THREE WEEKS LATER the unit showed up today. DOES NOT WORK!

DO NOT WASTE YOUR TIME BUYING THIS JUNK!!

Start a new discussion with your own Treadmill Consumer Reviews.
Reebok S9.80 Treadmill User Review
by "Frenchbleu"
(Shreveport, LA)
I have had my Reebok S9.80 folding treadmill for just 19 months.

I had it in the same spot in the living room from day one. When it was plugged in it was on a surge protector. I never sweat on or had any liquids near the console.

Last week it started speeding up randomly while showing a speed of 0, then the buttons wouldn't work from time to time and just beeped.

After one week of that the console would come on but no longer respond. The manufacturer ICON Fitness, after 4 unanswered emails and being on hold for 10 minutes on the phone, wouldn't take any responsibility for a faulty product.

They wanted me to pay $482 for a new console after already paying $700 for this Reebok treadmill just 19 months ago!

This is entirely infuriating. A company should make a product that lasts and take responsibility for it, especially when a customer has taken extremely good care of a product and it is no fault of the customer's.
Reebok VISTA 9500 ES - Worst Repair Experience!
by Henry Bareiss
(Michigan, USA)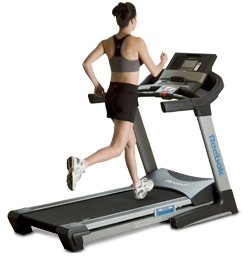 You should be aware of my experience with Reebok (ICON) customer support.

I have just experienced the worst repair experience I have ever had from any company, without exception!

I needed to get my Reebok VISTA 9500 ES treadmill repaired. ICON'S "service" department insisted on diagnosing it over the telephone and wouldn't send anyone out to diagnose and repair it, even though I was willing to pay for it.

They sent out a part I was unable to install. ICON was reluctant to send anyone out, even though I was willing to pay for it. When the installer did come out, he said more parts had to be ordered and installed for more money.

By this time I had been tricked into paying approx. $1000. THE Reebok VISTA 9500 ES STILL DOESN'T WORK!! I'll pay no more. I disposed of the treadmill.

If I had known how much it was going to cost, I would have just replaced the Reebok treadmill.

The way ICON does it, it is impossible to know ahead of time how much the repair is going to cost and whether it would even be successful, regardless of the investment.

ICON will not stand behind any repairs you pay for.
Start a new discussion with your own Treadmill Consumer Reviews.