The Reebok R5.80 Treadmill – Rated 'Avoid'
The Reebok R5.80 treadmill is an older model that can be found online priced anywhere from $699 to $1299. Now that you know that, hopefully it will keep you from paying too much. Actually, we hope this review will keep from buying it at all.


The Machine
The ClearView™ backlit display shows time, speed, distance, pulse, incline, and calories burned. The Reebok R5.80 treadmill has a Custom Weight Loss Center that uses your weight and calorie-burn goal to create a workout. The pre-programmed iFit® Workouts adjust speed and incline automatically during the workout focusing on performance, aerobic, or weight loss goals.
The specs on the Reebok R5.80 include: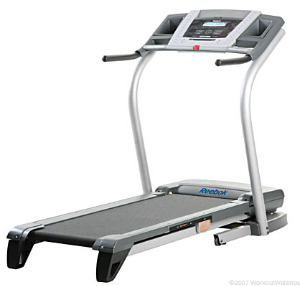 2.75 HP TRX™ Drive Motor
0-10 mph QuickSpeed™ Control
0% - 10% Power Incline
20" x 55" QuickTech™ Belt
12 iFit® Workouts
Universal iPod® dock + speakers
Dual-Grip EKG™ Heart Rate Monitor
AirTech™ Cushioning
300-lb. User Capacity
Warranty: 25 yrs motor, 1-yr parts & labor
The Buzz
UPDATE:  The Reebok R5.80 treadmill has been discontinued.  It has been replaced by newer models.  You can get great deals on all of them here:
Compare Prices On Popular Reebok Treadmills
This ICON treadmill by Reebok offers an Interplay™ Universal iPod® Dock with speakers to play tunes and stay motivated while exercising.
The Reebok R 5.80 has the12 iFit® workouts included for free with no additional purchase required, and it has some cool features such as a QuickSpeed™ control and an elevator motor to lift the deck up to 10 degrees. The Reebok R 5.80 treadmill has a good size 20" x 55" belt, a 300-lb user weight limit, and a 2.75 HP motor.
While the specs look good, equipment pros and customers are not impressed with the Reebok R 5.80. Despite the attractive bells and whistles, you want a treadmill that will be reliable and give you 5 to 10 years of problem-free use, and you won't find that here.
The Reebok treadmills have had a lot of issues the past two years with machines broken right out of the box and a customer service department that doesn't return calls. Treadmill reviewers warn potential customers to think long and hard before getting a Reebok right now.
What We Say
The current list price on the Reebok R 5.80 is $1,299 at most online retailers, but it is such an indistinguishable model that Amazon.com lists the same model (# RBTL07108) for $699 but with a 2.25 hp motor. This is an easy call: skip it either way.
This is a very old school design on the console support tubes that looks dated – the new Reeboks have adopted the thicker, flatter support posts. At a $699 price, the Reebok R5.80 treadmill offers a lot more value, but you would be nervous taking 3 hours to assemble it, wondering if it will turn on when you're ready to go.
There are better quality units out there from Proform and NordicTrack.
Show me other Reebok Treadmills