The
Precor M9.33 Treadmill

- One of Their Best-Selling Machines

We're always impressed with any Precor fitness equipment, and the Precor M9.33 treadmill is no exception. This is one of the finest treadmills on the market.
The Machine
The Precor M9.33 treadmill is designed and built by a company that has long excelled in both elliptical machines and treadmills. This is one of their best-selling machines, with features that include:

3.0 HP continuous duty motor
2.6 inch rollers
11 mph maximum speed
57" x 20" running surface
15% maximum grade
300 lbs. weight limit
Pulse grip heart rate monitor
14 pre-set programs
2 programmable user profiles
Phenolic running board (reversible)
Footplant technology
Impact control system
Dot Matrix Display Console
Warranty: Lifetime frame, 10 years parts; 1 yr. labor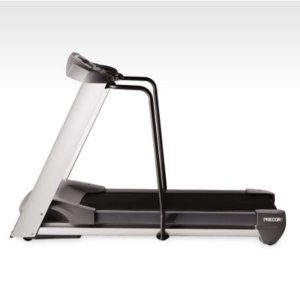 The Buzz
UPDATE: The Precor M9.33 has been discontinued and is no longer available.  Check out the latest Precor treadmills at the company store to find a comparable model on sale.
Also, make sure you take a look at the selection here as they often have really great deals on new and old models.
The Precor M9.33 is a favorite among professionals for providing a commercial gym quality feel in a home treadmill. This is easily one of the quietest treadmills on the market today.
The motor is fully capable of giving the performance at maximum speed that fitness experts crave and the oversized rollers (the largest we've found) give you a smooth performance with no jerking.
Experts also admire Precor's patented Footplant Technology, which adjusts the speed of the M9.33i's running belt to the speed of your stride with each individual step. This improves your balance and reduces side-to-side instability.
Owners appreciate the Impact Control System, which cushions the joints without slowing you down. As should be expected at this price point (about $3,500), some owners find the Precor M9.33 treadmill a bit overpriced, but they admit the investment has given them an exceptional machine.
What We Say
If you have the money, a Precor M9.33 is a fantastic purchase. Consumer Reports recently rated it as excellent in ergonomics, exercise range and quality and ranked it fourth overall in non-folding treadmills.
We had anticipated a price increase on the Precor M9.33 this year since so many others have raised their prices and they had significantly redesigned the treadmill's display console for improved readability and ease of use.
We just love the easy one-touch controls for so many features. But Precor has kept the price steady – kudos to them for not getting on the bandwagon of automatic price jumps every year.
Precor's careful focus on engineering to work with the human body is its greatest asset, and the result is machines like the Precor M9.33, which we feel is one of the most comfortable and safest treadmills you'll find for everything from walking to full-out running.
With the ten year parts warranty, it's obvious the Precor M9.33 treadmill will be around for years to give you great performance.
Show me other Precor Treadmills