The New Balance 1200 Treadmill – Decent Buy for Walkers/Light Jogging
The affordable New Balance 1200 treadmill is a durable machine that will last for years thanks to a new concept that allows owners to do their own hassle-free maintenance. You can not only do belt adjustments quickly and easily, you can lube the belt without taking everything apart.
The Machine
The New Balance 1200 treadmill comes with a bright backlit display with easy-to-read electronics showing your speed, incline, distance, approximate calories burned, and pulse rate.
The other features and specs on the New Balance 1200 include: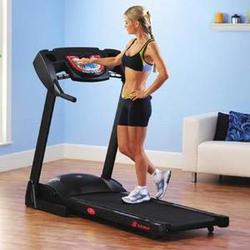 2.0 HP Continuous Duty Motor
0.5-10 mph
0-12% Incline
20" x 56" belt
8 Programs
Pulse Grip Heart rate monitoring
275 lbs. max. User weight
Dura-soft Deck
3-speed fan
EZ Care™ Maintenance & Belt Adjustment
Lift Assist Folding mechanism
Transport Wheels
Warranty: lifetime on frame, 10 yrs motor, 1 yr parts & labor
The Buzz
UPDATE:  New Balance treadmills are no longer being produced or sold.  Take a look at ProForm or NordicTrack for more features and value.
You want your machine to last about 10 years, and treadmills will last that long (and longer) with proper care, such as cleaning and lubrication, as well as using a mat under the motor housing to cut down on dust clogging up the works.
High-end machines require little maintenance but budget machines need a bit more attention to continue running smoothly. So it was a brilliant strategy for New Balance to design their treadmills so that non-mechanically inclined people can easily maintain them.
Not only can you tighten the belt with an adjustment knob (no tools needed), this machine comes with easy access to deck cleaning and lubrication areas — allowing you to do a tune-up on your treadmill, just as you would take care of your car, bike, etc. This feature alone scores high with treadmill experts.
Users writing in treadmill reviews like the QuickTouch™ Program keys, and the QuickTouch™ Speed and Incline keys (to quickly jump to your desired speed/incline without having to scroll), a quiet motor, and features such as a big cup holder, an iPod holder, and a towel rack.
The New Balance 1200 feels solid, and the lift assist mechanism helps the user fold away this 230-lb machine. As for cons, some people expressed a dislike for the cheap look of the console, and the warranty is weaker on New Balance machines than on competitor models.
What We Say
The New Balance 1200 has a 3/4" deck and the "Dura-Soft" shock absorption system to give you support and cushioning, and the 2.4" rollers running the belt are larger than we would have expected to find.
This is primarily a machine for walkers although it will hold up to light jogging, and the 2.0 hp motor should be able to deliver for years to come with proper maintenance.
With an MSRP of $899, the New Balance 1200 treadmill rates a decent buy. (We'd still go with the Sole F63 over this one, however, since it is the best value for any treadmill priced under $1,000.)
Show me other New Balance Treadmills