The Nautilus T614 Treadmill is an OK Entry Level Machine
The Nautilus T614 is one of three treadmills currently offered by the company, along with the up-level T616 and newer top model T618.  It has some interesting features but nothing that really separates it from the competition.
The Machine
The console features a large backlit blue LCD display showing you time, distance and calories burned.  There is also a media shelf built in, one of the upgrades from the previous T514 model.
Let's take a look at the specs...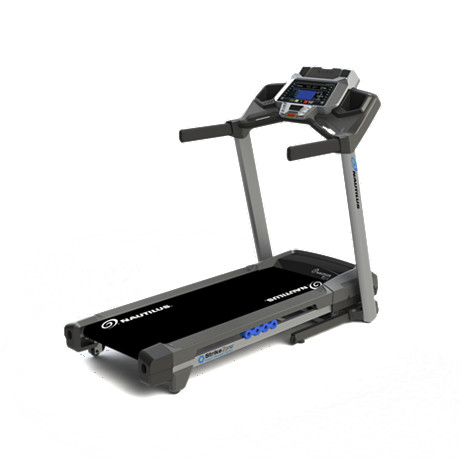 2.75 CHP Motor
0 to 12 mph Speed
0% to 12% Incline
20" x 55" Tread Belt
StrikeZone cushioned deck
22 Built In Workouts
Nautilus Connect Tracking
Hand Grip Heart Rate Monitor
300 lbs User Weight Capacity
SoftDrop™ Folding Design
Transport Wheels, Fan, water bottle holder
Dimensions/Weight: 72" L x 35" X x 58" H inches / 200 pounds
Warranty: 10 years motor & frame, 2 years parts, 1 year labor
Compare Popular Nautilus Treadmills at the Company Store!
The Buzz
UPDATE: As of 2021 it looks like the T614 may no longer be available for sale. Check out the up-level T616 as an alternative.
-----------------------------
The Nautilus T614 is definitely an improvement upon the previous T514 model, with a nicer display, media shelf and some upgraded features.
Still, it's not the most impressive machine on the market.  And with only three models in the lineup, we're not confident that the company is focusing too much on their treadmills, perhaps spending more time on their more popular brands like Bowflex, Schwinn and newly acquired Octane Fitness.
The best features are the 12% incline, the StrikeZone cushioning system and the fact that you can track your workouts and sync them to your favorite fitness apps.  The T614 is also foldable.
You get a nice array of workouts, 22 in all, and up to 4 user profiles which makes it good for family use.  There's also grip and contact heart rate monitoring, which is a nice extra.
Some of the negatives include the sub-par warranty.  Whereas most treadmills in this price range offer a lifetime frame warranty, the T614 only offers 10 years on the frame.  The up-level T616 treadmill has the same poor warranty.
Also, at a list price of $1000, we would expect it to have a stronger motor, but it only has a 2.75 CHP motor, something typically found on cheaper treadmills.  The best motor is the 3.25 HP one that the T618 model has.
All in all, the Nautilus T614 is a decent entry level treadmill, but there is plenty of competition out there.
How does the T614 Compare to the Rest of the Nautilus Treadmills?
As we mentioned there are only three Nautilus treadmills: the T614 is base model, the mid-range T616 and the top of the line T618 model.  As you move up in the lineup you get more features and more capabilities.
T614
As you've read above, the Nautilus T614 features a 5.5" blue backlit display, SoftDrop folding, 20" x 55" 1-ply deck, 2.75 CHP motor, up to 12% incline and 22 built in workout programs.
T616
The T616 improves upon the T614 with an enhanced dual window display, a longer 20" x 60" 2-ply deck, 3.0 CHP motor, up to 15% incline, 26 built in workout programs and Bluetooth performance tracking/app syncing.  It also includes a free wireless chest strap.
T618
The T618 is very similar to the T616, but adds a stronger 3.5 CHP motor, 3 ply light commercial belt, Rebound cushioning and a 350 lb. max weight capacity, compared to 300 lbs. on the T614 and T616.
So when you're comparing the T614 vs the T616 and T618, the T614 is going to be more for lighter use, with the weaker motor and shorter deck.  
For heavier use or multiple users, you'll be better served with the T616 or the T618 as they are built to handle a bit more.  You also get tracking capability and a free wireless chest strap, on top of the stronger motors, additional workouts and additional incline capability.
The difference in price between the three is minimal, with only a few hundred dollars separating them, so definitely opt for advanced models if it's possible.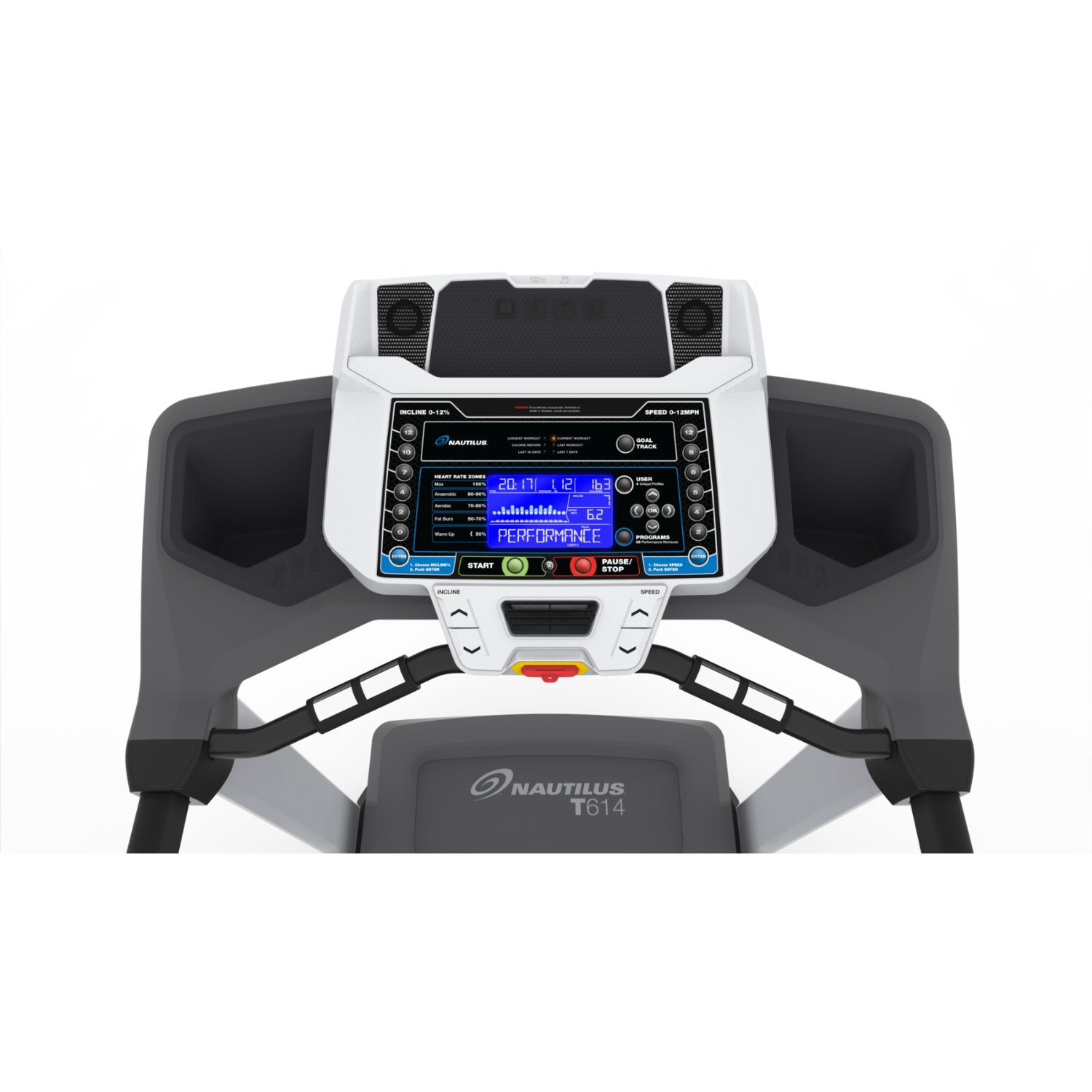 What We Say About the T614
It's hard to recommend any treadmill wholeheartedly when we're not entirely sure where the brand is headed.  It just doesn't appear to us at this moment that the company is focusing on the Nautilus treadmills.
Still, as we mention above, if you can get it on sale for under $900 that's a very good deal for the T614.  It's not a bad treadmill by any stretch it's just not worth more in our opinion when you can get many more features and capabilities from companies such as NordicTrack for example.
Also take a look at the T616 and T618 models, which offer Bluetooth tracking, more workouts, chest strap heart monitor, larger deck and more incline levels.
Show me other Nautilus Treadmills