The Merit 725T Treadmill – A Popular Choice
The Merit 725T treadmill was the company's mid-range offering and is still available on a few sites, but is primarily found these days as a used model. Merit Fitness has since created the 725T Plus, which is an updated version of this machine.
The Machine
Retailing for not much more than $600, the Merit 725T treadmill is a definite step up from the 715T, offering a wider range of inclines and more pre-set programs. It's also quieter and has a slightly improved design for the console, but it's still a basic machine for daily users who aren't training for their next marathon.
The Full Specifications for this model include: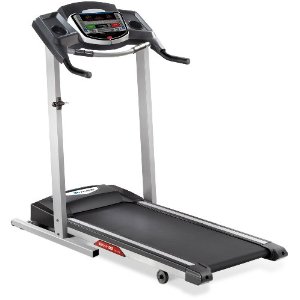 1.25 horsepower motor
18" x 50" deck
42 mm roller
Aerosoft cushioning beneath belt
Motorized, adjustable incline (0°-10°)
Hand contact heart rate monitor
2 cup holders
1.25 horsepower motor
250 lbs. maximum user weight
Dimensions: 29" x 26.25" x 56" folded
29" x 61" x 52" in use
7 preset programs; 5 preset intensities
LED console showing time, speed, distance and calories burned
Warranty: Lifetime on frame; 2 years on motor
Check out the popular 725T on sale now at Amazon
The Buzz
Reviews of the Merit 725T treadmill trend heavily toward users who have purchased this model for regular, daily exercise. For the most part, these individuals are at an average fitness level or below and they are quite happy with the performance.
You won't see as many positive reviews - or reviews in general - from hard core athletes, probably because they simply don't shop for their equipment at this price point. The few that did use it noted that it was an acceptable treadmill for the average user, but that the motor simply wasn't powerful enough for the beatings they would give it.
People with joint problems or back pain notice that the Merit 725T has some excellent cushioning, due largely to the Aerosoft cushioning beneath the belt. The simple console is appreciated for its simplicity - it gives reviewers all the vital information they need without confusing them with too many functions.
There is one flaw that users from both ends of the exercise spectrum agree on - the Merit 725T is a crapshoot when it comes to ease of assembly. If the holes on the frame are aligned properly, it is easy to quickly assemble it with two people. However, poorly aligned holes give about 25% of reviewers a healthy dose of frustration. Lubricating the belt is also an issue, but most users say it is a minor annoyance rather than a real difficulty.
What We Say
The price tag on the Merit 725T treadmill is right, and we are impressed with the quiet motor and smooth glide that never jars you.
Merit Fitness' moderate price for a stable, dependable treadmill makes it a popular choice, and in today's economy more people will seek out exercise equipment at this price point. If you're considering this one, however, take a look at the more recent 725T Plus, which has a more powerful motor.
Show me other Merit Treadmills