The Merit 715T Treadmill – An Older Entry-Level Model
The Merit 715T treadmill has been out for several years and has been all but replaced by its newer version, the 715T Plus. There are still some new 715Ts out there, however, as the entry level treadmill by Merit.
The Machine
Retailing for less than $500, the Merit 715T treadmill is a stripped down machine that's designed primarily for casual users or those who will be using it for walking rather than running. It's got a few extras on the LED Console, but not enough to bring this model up out of the "bare essentials" realm.
The Full Specifications for this model include: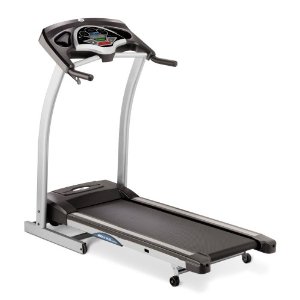 1.25 horsepower motor
18" x 47" deck
42 mm roller
3 position, manual incline (0°-5°)
Thumb pulse meter
250 lbs. maximum user weight
Dimensions: 29" x 26.25" x 56" folded, 29" x 61" x 52" in use
4 preset programs
LED console showing calories burned, time elapsed and miles covered
Warranty: Lifetime on frame; 1 year on motor
Compare the Most Popular Merit Treadmills at Amazon
The Buzz
Trainers and other serious users bypass the Merit 715T treadmill because it simply doesn't have the high tolerances or power to keep up with challenging routines.
A few reviewers who were looking for inexpensive machines for daily use noted that while Merit does have good quality, that quality is within a niche market of casual users, and the 715T is on the lowest rung within that group.
It simply isn't a good fit, and it doesn't have the touches they're looking for, including a fan to keep them cool or more detailed information on the console. They also didn't like the lack of personalized programs.
The reviews of more casual users, however, were more positive. Most of these folks were happy with the 1.25 horsepower motor, which is good enough for daily walks or some sprints.
The 250 pound weight tolerance makes it fine for most men and women, but a few users who were right at the top of the weight limit noted that the Merit 715T treadmill felt "flimsy" when they used it.
There are just enough basic features in this model to give individuals who are new to exercise vital information such as pulse rate, calories burned and time elapsed, but there isn't much more said about this model.
What We Say
It's usually not a good idea to buy the most basic model of a brand, particularly when a newer, sleeker version with upgrades is available, as it is with the 715T Plus.
If you can get a great deal on the Merit Fitness 715T (say, half price) and you simply want a rainy-day backup for your usual long walk or some light jogging, you may be satisfied with the small motor, but your speed has to be adjusted in .5 mph increments, which can make it difficult to find that "sweet spot" for walking or running that puts you in the groove.
If you're more interested in an inexpensive treadmill that can fold up and story easily, this just might be a good budget treadmill for you. But be aware that because this is an older, very basic model, the warranty on the Merit 715T treadmill isn't what we'd like.
While the frame has lifetime coverage, the 1.25 horsepower motor is only covered for one year. Considering how easy it could be for some runners to burn up a motor of this size, a better warranty should be offered.
Show me other Merit Treadmills