The Landice L7 is a Winning High-End Treadmill For Home
The Landice L7 treadmill has been an industry favorite for years, offering the very best that money can buy. With a strong motor, advanced cushioning, incline capability and four console options, it's a great choice for those with an unlimited budget.
The Machine
The L7 features a rust-free aluminum frame and case aluminum rails and caps.  It is completely customizable with four console choices and other options.
Let's take a look at some of the important specs...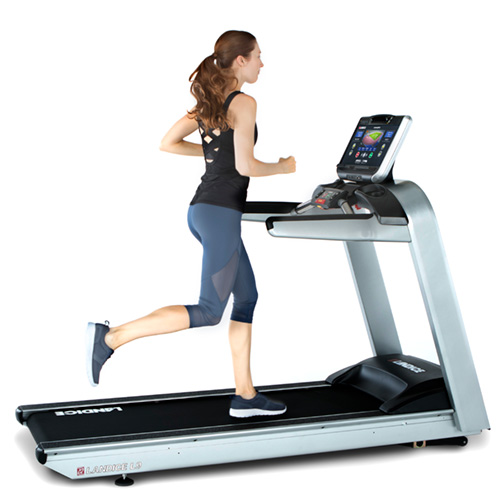 4.0 HP continuous duty motor
20" x 58" running belt area
2.5", 14 lb. rollers
15% maximum incline
12 mph maximum speed
Maintenance free, reversible deck
VFX shock absorption system
400 lbs. user weight limit
Four Console choices
Warranty: Lifetime parts, 1 yr. labor
The Buzz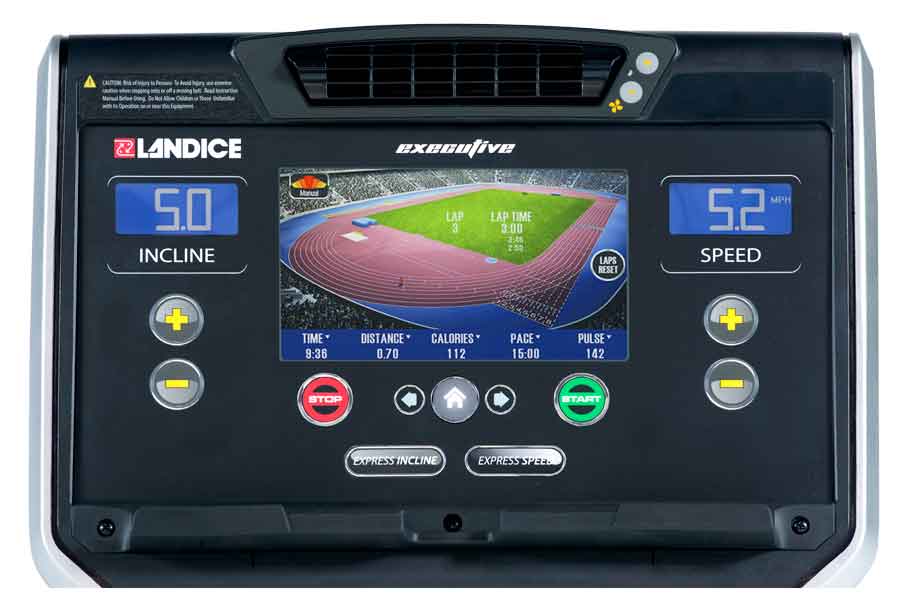 The Landice treadmills get great reviews from every major publication, and deservedly so.  The quality is pretty much unrivaled, but you do pay a premium for that quality and as such there are more popular treadmills on the market.
The starting price for the L7 with the basic console is just under $4,000.  Once you tack on everything else you want it quickly adds up.  So this is a home treadmill for a well-heeled buyer.
At any rate, let's not take anything away from the treadmill itself.  It's a real winner.  It has solid construction incorporating the most advanced technology.  The 4.0 HP motor is powerful yet quiet.
The deck is maintenance free and reversible, with the advanced VFX Shock Absorption system which minimizes impact and provides the ideal comfort and support.
You get speeds up to 12 mph and incline up to 15%, which helps you change up your workouts.  The running area is 20" x 58" which is fine for most users, but if you are over 6 feet tall or just want some more room to stretch out, the up-level L8 is a better option.
As we mentioned, you get a ton of customization which is not common in residential versions of commercial treadmills.  The most appealing of these customizable options is the console selection.
There are 4 consoles, or control panels, to choose from: Pro Trainer, Pro Sports, Cardio and Executive.
The Pro Trainer console features a main LCD window and one each for speed and incline.  You get 10 metrics, 5 built in workout programs, quick keys and 2 user programs, as well as contact/wireless heart rate monitoring.
The Pro Sports console is slightly more advanced and gives you express keys for incline and speed and 5 user programs.
The Cardio console looks like the Pro Sports one and features a number of heart rate specific programs as well as the ability to sync to your favorite fitness apps via Bluetooth.
The Executive console is the most advanced one and features a 9" touch screen with additional workout metrics, 5 different scenes plus a track, lots of workouts and Bluetooth.
As you move up you pay a little more, with the Executive costing about $1300 more than the base Pro Trainer console.
The Landice L7 is definitely expensive, but it has absolutely everything you need.  Our one problem with it is the fact that the running deck is only 58" long.  Similar machines have 60", which is much more comfortable for taller users.
How Do Landice Treadmills Compare to the Competition?
Landice has always been one of the most well regarded names in the industry, and their treadmills are still as good as it gets.  The reason they are not more popular, at least in the residential market, is because they are out of reach for most consumers.
The Landice L7 starts at around $3999 with the basic Pro Trainer display and goes up to around $5,399 with the most advanced Executive console.  The up-level L8  starts at $4799 and goes up to $6199.
The fact is there are some fabulous commercial grade choices out there for considerably less money.
For example, you can get the top of the line Matrix T75, with the most advanced console the company offers, at around $4999, over $1000 cheaper than the L8.
Life Fitness and Precor also have some great treadmills that are similarly priced.
So for home use, you'll be better served with a Matrix, Life Fitness or Precor than you would a Landice L7.  However, if you are opening up a gym any time soon, and your budget was wide open, a Landice is a great option.  If that is the case also consider SportsArt, Star Trac and Body Solid.
What We Say About the L7
Is the L7 a great treadmill?  Absolutely!  Do you need to spend $4,000+ to get a great machine for your home?  Not really.
If you want to save a little money look at our Top Treadmills $3000-$4000+ page, which features some models that may be better choices for you.
Still, if money is no object, by all means go for a Landice.  You will never be disappointed with one of their machines, and they absolutely last a lifetime with little to no maintenance required.
For our money we'd opt for a Matrix treadmill, or something from Life Fitness or Precor.