The Ironman Triad Treadmill with Shock-Assist Folding Mechanism
The Ironman Triad treadmill is an affordable yet extremely reliable and durable piece of cardio exercise equipment. As one of the company's top-selling treadmills, it comes with a zippier motor than other Ironman treadmills, but otherwise doesn't offer any more features or programs to distinguish it from its less expensive siblings.
The Machine
The Ironman Triad treadmill has a shock-assist fold up design with a 5 window LCD display, 2 speed cooling fans, one touch speed and incline bars, wireless chest strap and hand grips for heart rate monitoring. Other features include: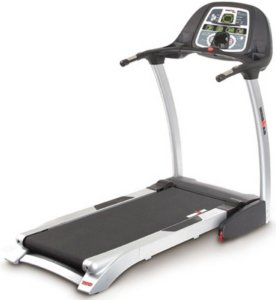 3.0 HP motor
10 mph max. speed
10% max. incline
20" x 60" running area
4 pre-set and 8 custom workouts
Hand grip heart rate monitor
350 lbs. max. user weight
Deck cushioning system
10 year warranty on motor, lifetime on frame
2 year warranty on parts, 1 year on labor
The Buzz
UPDATE:  Ironman Fitness no longer manufactures treadmills, sticking only with their elliptical line.  For a similar machine take a look at NordicTrack.
The Ironman Triad is too new and too recent an entry into the treadmill market to get any strong opinions by trainers for or against it. It needs the time to prove itself against more established fitness equipment makers.
Ironman treadmills should last a daily user 7 to 10 years of continuous use with regular maintenance, so you'll have to come back and ask at least five years from now how these things are holding up.
Looking at the treadmill specs: the walking area is huge, the 3.0 continuous horsepower motor is a plus, the deck cushioning is exceptional, the readout is nice … so what's not to like about an Ironman Triad?
As we just mentioned, the reliability of Ironman treadmills is still debatable, which means the long-term value can't be determined at this point. The motor warranty is good, but the limited time on the rest of the parts and labor doesn't entice buyers to rush out and get one.
What We Say
For just under $1500, this model in the line of folding Ironman treadmills is too much to pay, though we've seen it online for well under $1000.
But because of the relative newness of the company, it's a better bet to go with an established treadmill maker and buy something you can count on — just to name one competitor, for example, take a minute to review the specs on the Smooth 5.25 treadmill as compared side-by-side with the Ironman Triad treadmill.
Show me other Ironman Treadmills