The Horizon Elite T7 is Built Strong and Packed With Great Features
The Elite T7 treadmill is one of two in Horizon's higher end series, offering a number of great features that put it on top of many Best Buy lists year after year.  With plenty of workouts, a runner's deck and generous incline capability, it's hard to beat in the price category.
The Machine
The Horizon Elite T7 features a bright 8.5" extra wide LCD display showing time, distance, calories, heart rate, laps and speed.  It offers special 3-zone cushioning on a large, foldable runner's deck with incline capability and 42 built in workout programs.
The specs on the Elite T7 model include: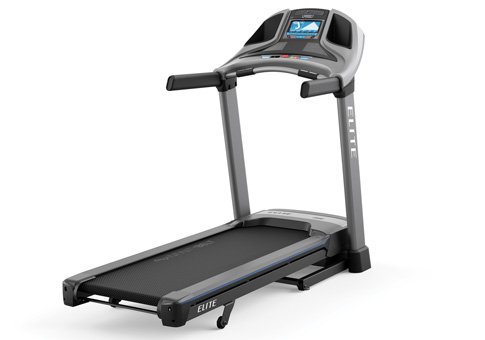 2.75 CHP Motor
0.5 - 12 mph Speed
0 - 15% Incline
20" x 60" running area
8 Workout Programs
Polar Wireless Heart Rate Strap Included
MP3 compatible; Sonic Surround™ Speakers
3-Zone variable Response Cushioning
FeatherLight lift system for fold-up storage
350-lb. User Capacity
Wt / Dimensions: 227 lbs / 77" x 36" x 60"
Warranty: Lifetime frame & motor, 5-year parts & 1-year labor

The Buzz
As we mentioned above, reviews of the Elite T7 have always been positive from experts and users alike, because it offers a lot for under $1500 when it's on sale.
It's a step up from the Horizon Elite T5 model, with a stronger motor, larger display, more incline capability and other additional features.
The Elite T7 features the Infinity Belt, which is a maintenance-free built found exclusively on the Elite Series models.  They blend in a synthetic hard wax that lasts forever, so there is no need to ever lubricate the belt like you need to do on most other treadmills.
Critics like the fact that although this is a folding treadmill, quality is not sacrificed at all.  These machines are well-made, with the unique Johnson Drive System making them very quiet and responsive to your movements.
Users love the 3-Zone Variable Cushioning system that provides the right amount of resistance at each part of the belt.  There's a generous 42 workout programs to choose from as well.
Other well-received features are ViaFit technology which tracks all of your workouts and Passport, which syncs to your television and shows high definition footage of two locations, Italy and the Southwest, which matches the pace of your workout.  So it's like you are actually running in those locations.  (Note that you need a Passport Player, sold separately for about $249)
You can also buy other locations if you get bored with the two. :)
All in all, the Horizon Elite T7 is a winner, giving you everything you need to make your workouts better and reach your fitness goals.
How Does the Elite T7 Compare to the Other Horizon Treadmills?
There are currently five Horizon treadmills on the market today:  the base T101, the Adventure 3 and the three Elite models, T5, T7 and T9.  All are great, and there's something to fit every fitness level and every budget.
Let's look at all of them a little more closely so you can see what differentiates one form the next...
T101
This is one of the company's most popular models, the entry level machine for very light use, i.e. walking and perhaps some jogging.  You have a 2.25 CHP motor, a 20" x 55" belt, 10% incline, up to 10 mph speed, nice cushioning, speakers, 5 workout programs and a 300 lb. maximum weight limit.
Adventure 3
The step up model gives you a bit more, including higher speeds up to 12 mph, a stronger 2.5 CHP motor, steeper 12% incline, a larger display, workout tracking through ViaFit and Passport HD destination videos.
Elite T5
This is the newest Horizon treadmill in the mix, replacing the Adventure 5 and becoming the base model in the Elite Series. You get more incline (15%), stronger motor (2.75 CHP), higher max weight capacity (350 lbs.) and a large array of built in workouts (38 in all).
Elite T7
What separates the Elite T7 from all of the Horizon treadmills under it is the size of the running deck.  You get a larger 20" x 60" surface, allowing you to stretch out a bit more.  You also get even more workouts than you get on the T5 with 42, a stronger 3.0 CHP motor and a USB port.
Elite T9
The top end Elite T9 expands the deck size even more, giving you 22" x 60", gives you the strongest motor at 3.25 CHP and adds Bluetooth capability that the other treadmills do not have.
Which Horizon Treadmill Should You Choose?
Our favorite Horizon treadmills are the Elite T7 and Elite T9, both of which have made our Best Buy lists over the last few years.  They give you the largest decks, strongest motors and a large variety of workout programs.
So we would definitely choose one of those if you are more of a runner or there will be multiple users on the treadmill on a regular basis.
If however you are more of a walker, and will be doing mostly light workouts, we can't say enough about the Horizon T101.  For the price, under $700 on sale, it's one of the best entry level treadmills you will find on the market.  
You can't track your workouts on the T101, so if that is important to you step up to the Adventure 3, which also gives you access to the Passport HD destination videos on your own TV.
But again, we like the two top end Elite models, which compare favorably to similarly priced offerings from NordicTrack and Sole.
What We Say About the Elite T7
We like the Elite T7 treadmill, as it gives you a lot of good features that keep you motivated to work out.  There are a ton of built-in workouts to choose from, as well as up to a 15% incline which is great for improving your cardio.
The Infinity Belt with 3 zone cushioning is as good as it gets, and the motor is strong and quiet, even at high speeds.
We like the fact that you can track your workouts and sync them with various fitness apps, and Passport, despite the fact that you have to pay extra for the module, is a very cool feature.  
We used a machine that had one of the additional destination packs, virtually running through New Zealand, which was just beautiful.  It definitely makes your workouts more enjoyable.
If you want to enjoy these destinations with even more room to stretch out and Bluetooth capability, check out the top of the line Elite T9 treadmill.
What's the bottom line?  The Horizon Elite T7 is a winner and definitely worth a closer look.