The Horizon Adventure 3 Steps Up the Entertainment Features
The Horizon Adventure 3 is an upgrade from the very popular base T101 treadmill with an enhanced motor, more incline and the addition of ViaFit and Passport, two Johnson Fitness entertainment options not found on the lesser priced models.
The Machine
The Adventure 3 features a 5.75" extra wide yellow-green LCD console offering workout feedback such as distance, incline, speed, time, calories and heart rate.  It offers 3 zone variable cushioning to minimize stress on the joints and FeatherLight folding for easy transport and storage.
The specs on the Horizon Adventure 3 model include: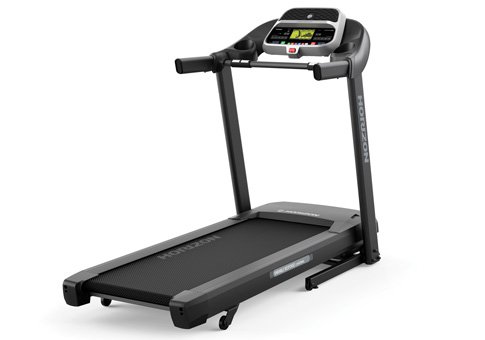 2.5 CHP Johnson Drive Motor
0.5 - 12 mph Speed
0 - 12% Incline
20" x 55" walking area
30 Programs
Contact Heart Rate Monitor
MP3 compatible; Sonic Surround™ Speakers
3-Zone variable Response Cushioning
COOLfit™ fitness fan
FeatherLight lift system for fold-up storage
300-lb. User Capacity
Wt / Dimensions: 177 lbs / 71" x 34" x 54"
Warranty: Lifetime frame & motor, 3-year parts & 1-year labor

The Buzz
There's a lot to like on the Adventure 3, and there's a reason that Horizon treadmills are so popular these days.  For starters, it's very affordable.  At under $900 on sale you get a lot of good features, such as  easy set up and folding, incline up to 12%, nice cushioning as well as additional touches such as built-in speakers, a reading rack and a bottle holder.
Perhaps even better is the fact that you get some entertainment included which you typically don't at this price level, besides from our other top choice in the price category, ProForm.
First, it is Passport compatible, which means you can hook it up to your TV and virtually walk or jog through two preloaded destinations.  It is synced to the intensity and speed of your workout too which is very cool (You do however have to buy a Passport Player separately, about $199 currently)
It also features ViaFit, which syncs your workout information with compatible fitness apps for easy sharing, tracking and monitoring.
Reviews have been very positive on the Horizon Adventure 3 treadmill, and critics agree that you do get a lot for your money.  It's not a runner's treadmill, with only a 2.5 CHP motor and shorter 55" track, but for walking and jogging, you really can't beat it.
If you're more of a runner, then you'll want to take a look at the Elite T5, which has a longer running deck as well as a stronger motor and other additional touches.
How Does the Adventure 3 Compare to the Other Horizon Treadmills?
There are only a handful of Horizon treadmills on the market today, which makes it much easier to decide which one to choose for your home.  The lineup is pretty straightforward, and you get more features and capabilities as you move up.
Lets take a look at all of them so you can compare and see which one most appeals to you...
T101
The base model in the series is one of their most popular as it gives you a lot for the price.  You get a 20" x 55" deck, 2.25 CHP motor,  speeds up to 10 mph, up to 15% incline, 3 zone cushioning, easy folding capability, speaker system, tablet rack, water bottle holder, 5 built in workouts and a 300 lb. max weight capacity.
T202
One of the newer treadmills in the lineup, the T202 improves upon the T101 with a 20" x 60" deck, 2.75 CHP motor, 12% incline and 12 mph top speed.  It also has a 325 lb. max user weight.
Adventure 3
Stepping up you have the Adventure 3, which you read about above.  In addition to all of the features you get on the T101, you get larger rollers (less wear and tear), speeds up to 12 mph, stronger 2.5 CHP motor, additional incline up to 12%, ViaFit workout tracking, Passport video capability and a larger display.
Elite T5
Moving up the ladder to the Elite T5, you get an even stronger 2.75 CHP motor, thicker deck, larger rollers, additional incline up to 15%, higher max weight capacity of 350 lbs., easy resistance controls, a larger display and an impressive 38 built in workout programs.
Elite T7
The Elite T7 is one of only two models with a larger deck, 20" x 60", as opposed to the shorter 20" x 55" deck on the other Horizon treadmills.  It also gives you a 3.0 CHP motor, a USB port and 42 workout programs in all.
Elite T9
The top of the line Elite T9 gives you the largest running area of all, 22" x 60", as well as the strongest motor at 3.25 CHP and Bluetooth capability, on top of all of the features of the Elite T7 treadmill.
The Horizon Adventure 3 as well as the rest of the treadmills have solid warranties, easy folding capability and foam grip handles.
Which Horizon Treadmill Should You Choose?
If you are just walking and perhaps doing some light jogging and nothing more, then the Horizon T101 may be the right choice for you.  It's the least expensive model, and you'll be hard pressed to find a better entry level treadmill under $700.
However, the Horizon Adventure 3 is definitely a great choice, and it will give you more speed and more incline as well as the ability to track and monitor your workouts.  It's only about $250 more than the T101 and also gives you a stronger warranty.
If you are more of a runner, and plan to do some more serious training, or there will be multiple users of various heights and weights, then you may want to upgrade to one of the Elite models.  
In this case we recommend either the Elite T7 or T9, both of which give you stronger motors, larger decks and more workout programs, plus more comprehensive warranties providing more coverage.  The Elite T9 is the most durable of all of the Horizon treadmills, and will likely last the longest.
What We Say About the Horizon Adventure 3
For all that it offers, the Adventure 3 is a good choice if you're looking for a low-priced treadmill for light workouts with some good features and entertainment options. (If you don't need Passport and ViaFit, take a look at the Horizon T101 as well)
The Adventure 3 folds very easily, is relatively quiet and has nice three-zone cushioning that minimizes impact on your knees and joints.  It also has a solid amount of workout programs to choose from, which adds variety to your workouts.
Again, if you're going to do a lot of running take a look at one of the more advanced Elite models, with the Elite T7 and T9 being our favorites.
All in all, this is a very solid choice, and we recommend it for those in the market for a well-made entry level machine.