The Healthrider T600i Treadmill Might be the Perfect Fit
The Healthrider T600i treadmill offer you a smooth running surface as well as the features even the causal exerciser can use. But when it comes to Healthrider treadmills in general, we're still a little concerned that they might not be putting their money into quality parts on their lower end models – but thankfully, the Healthrider T600i seems to be an exception.
The Machine
For about $1200, you can add the Healthrider T600i treadmill to your home gym, although we have seen it on sale for as low as $650. There are a lot of features that come with this model from Healthrider treadmills. The space saving design is certainly a plus as is the cushioned running surface. Other features include: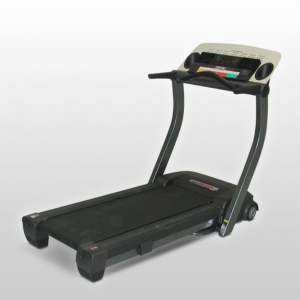 1.5 HP continuous duty motor
19" x 55" running surface
0-10 mph speed
Power incline
Cushioned belt
4 window LED console
6 workout programs
2 cooling fans
Grip pulse and optional chest pulse sensors
iFIT compatible
90-day warranty on parts and labor
The warranty is notoriously sparse given Healthrider's use of plastic parts on lower end models. The electronic parts might need additional warranty coverage for maintenance and routine problems.
The Buzz
UPDATE: The T600i model is no longer available.  You can check out all of the new treadmills for sale at the Healthrider online store.
The only concern that most experts have with some of the Healthrider treadmills is they seem to be made from mostly plastic parts, which can become damaged easily if you're a hard core athlete. However, most users found their runs on the T600i to be smooth and steady, so maybe this won't be an issue for everyone.
The Healthrider T600i's ample running surface is sure to make you feel like the road is open for each and every run on this treadmill, while the cushioned surface allows you to absorb the shock from each impact, lessening the possibility of injury. The sturdy running surface and cushioned track make this a great beginner's purchase.

What We Say
The Healthrider T600i is a basic beginner's machine for light workouts. We wouldn't spend $1200 on a treadmill with a 1.5 hp motor and a 90-day warranty, unless you can find it on sale for the often advertised price of $650 or less.
With a bundle of features and a comfortable ride, the Healthrider T600i treadmill is a model that might be the perfect fit for you.
Show me other Healthrider Treadmills