The Healthrider R65 Treadmill – Long Belt/Short Warranty
The Healthrider R65 treadmill is advertised as a low-impact machine that's easy to use and packed with innovative features. It has one of the most spacious treadbelts you can find in a treadmill priced under $1000. Unfortunately, ICON's short warranty doesn't reflect their confidence in the longevity of this model.
The Machine
The Healthrider R65 treadmill is meant to appeal to serious runners who want to get started on a treadmill workout program without spending a lot of bucks. The 20" x 60" two-ply treadbelt is certainly hard to find in a machine that retails for around $650. The R65 is a big treadmill loaded with features that include all of the following: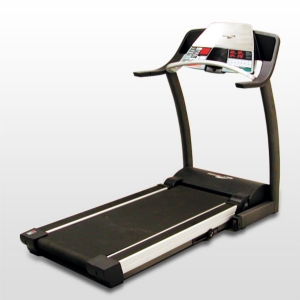 2.0 HP continuous duty motor
0-12 mph speed range
10% maximum incline
SpaceSaver® folding design
Pulse grip sensors
Optional chest pulse sensor
Cooling fan
20" x 60" running surface
Adjustable deck cushioning
10 workout programs
4-window LED console/Matrix display
90-day parts and labor warranty
The Buzz
UPDATE: The R65 model is no longer available.  You can check out all of the new treadmills for sale at the Healthrider online store for special deals.
Although the quality of Healthrider treadmills seems to be improving, you won't find many fitness professionals endorsing the Healthrider R65 treadmill. The reason is ICON's unfortunate choice of the 2.0 HP motor. The motor is not powerful enough to drive a large 2-ply belt for any length of time. Premature motor burn-out is the result and remember: the R65 does not come with any kind of motor warranty.
Consumers cite the generous running surface and the price as the main reason for purchasing this treadmill. They like the adjustable deck cushioning system which absorbs impact and greatly reduces strain on the ankles and the Space Saver® folding design which makes storage convenient. Common consumer complaints about the Healthrider R65 are motor burn-out and ICON's notoriously poor customer service.

What We Say
The Healthrider R65 is a good looking treadmill with a full range of electronic features that makes working out enjoyable if it wasn't for the undersized motor. If you need a treadmill with a 20" x 60" cushioned belt we suggest looking for a model powered by a 2.5 or 3 HP continuous duty motor. Let's face it, if ICON had any confidence in the R65's motor, it would be covered by a decent warranty.
If you are set on the Healthrider brand, we suggest you spend an additional $100 and get the H550i model. This treadmill has a more powerful motor that comes with a 12-year warranty and a one-year parts and labor warranty. In our opinion, it's a much better deal than investing your money in the Healthrider R65 treadmill.
Show me other Healthrider Treadmills