The HealthRider Club Series H140t Treadmill – an Overpriced TV Model
The HealthRider Club Series H140t treadmill is a feature rich design what with the TV, tuner, mp3, and a superior sound system. But what do you really want? Do you want a quality piece of fitness equipment, or an entertainment system?
While the company has made improvements across the board in terms of quality in the components used in these higher end treadmills, you're paying a lot of extra money for the bling on the console.
The Machine
The HealthRider Club Series H140t treadmill offers an attractive display that features speed, distance, time, calories burned, etc., plus it includes a 7x10 LCD matrix, which displays your workout graphically. The full list of features on this model includes: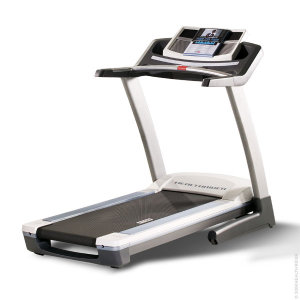 3.50 HP Commercial Plus Motor
0-12 mph Max Speed
0-10% Incline
20" x 60" Quiet tread belt
7" Flat-Panel TV and digital tuner
40 iFit Workout Programs
MP3 music port
Intermix Acoustics 3.0 Sound System
Heart Rate Monitor
350 lbs. max. User weight
2 CoolAire™ Fans
SoftStrider® Cushion Deck
SpaceSaver Folding design
Warranty: lifetime motor/frame; 1 year parts and labor
The Buzz
UPDATE: The HealthRider Club Series H140t is no longer available.  You can check out all of the new treadmills for sale at the Healthrider online store for special deals.
Experts concede that ICON Fitness has made improvements to their HealthRider treadmill line but the company doesn't have the reputation, or the machines, to take on competitors in the $3000-range models.
There are many things to show off on the Club Series H140t, such as the powerful and quiet 3.5 HP motor, the cushioned deck, the in-handle Quick-Touch Speed and Incline controls, and a 350 lb weight capacity. But experts caution buyers about the "bling,"; that is, the potential expense of replacing a TV/tuner on a treadmill after the warranty runs out.
The HealthRider Club Series H140t lets you watch your TV shows, DVDs, or just listen to your favorite tunes while getting fit. But don't get impressed by the inclusion of the model's 40 iFit® Workout Card programs; the mini-cards are inexpensive to purchase separately, so don't consider this a big selling point.

What We Say
The HealthRider Club Series H140t treadmill does everything well, but you don't need to spend $2995 just to have a TV. We're going to stick to our standard response regarding TV treadmills: get the best treadmill you can for the money that doesn't have an expensive LCD insert, and set it up in front of a real TV with a 32" screen.
Now that's luxury! For this price, we recommend you take a serious look at the Landice ProSports Trainer or the NordicTrack S3000 Institutional treadmill. Both are better value for your money.
Show me other HealthRider Treadmills