The Healthrider H150i Treadmill – an Inexpensive Starter Model
The Healthrider H150i treadmill offers one of the most even and comfortable running surfaces on the market. However when it comes to Healthrider treadmills in our experience, we're still a tad concerned about Icon Fitness's use of inferior quality parts on their lower end models.
The Machine
For only $400, you can add the Healthrider H150i treadmill to your home gym. With this low price, you might expect a cheap and shabby treadmill, but that's just not the case this time. There are a lot of useful features that work well for this budget model from Icon Fitness.
For example, the impact reduction system is one of the strong selling points as is the motor which is covered by a 3 year warranty instead of the usual 90 days. Features of the Healthrider H150i include: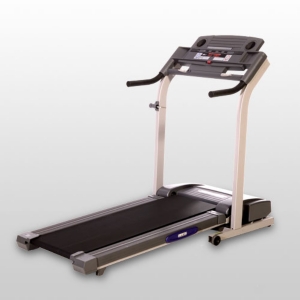 2.25 THP motor
18" x 50" running surface
0-10% power incline
0-10 mph max. speed
4 workout programs
Grip pulse sensors
Impact reduction
3 year motor warranty
90 day warranty on parts and labor
Icon's warranty on parts and labor is sparse as usual. The Hypauer™ Motor is rated in THP (total horsepower) rather than CHP (continuous horsepower), so don't be fooled into thinking this motor is as powerful as a 2.25 CHP motor.
The Buzz
UPDATE: The H150i model is no longer available.  You can check out all of the new treadmills for sale at the Healthrider online store for special deals.
The Healthrider H150i cushioned running surface is one of the strong selling points with consumers, but experts have their reservations due to the fact that a 2.25 THP rated treadmill motor may not be powerful enough for this type of treadbelt. At least the motor is covered by a decent warranty in case it burns out prematurely.
Another concern that experts were quick to point out was the heart rate monitor. Grip pulse sensors are just difficult to manage when you're trying to get in a high impact workout, so, like so many other treadmills with this feature, the Healthrider H150i treadmill might cause you to lose balance while you try to check your pulse.

What We Say
The Healthrider H150i treadmill is a great model for its low price, but Icon Fitness's use of plastic parts for Healthrider treadmills makes us slightly nervous.
However, if you're a beginner and you need a low cost treadmill to get yourself started, this is a good choice for you. Even if it wears out in a few years, you will have gotten your money's worth from it.
Show me other Healthrider Treadmills