The Gold's Gym Trainer 480 – Don't Expect Too Much!
The Gold's Gym Trainer 480 is one of the least expensive treadmills on the market that offers all the right kinds of features people are looking for a budget machine. It all sounds promising, but the 480 is likely to deliver more frustration and disappointment than good cardio fitness.
The Machine
The Gold's Gym Trainer 480 comes with the ClearView™ Display readout for time, speed, distance, pulse, and calories burned. It features four weight loss programs and four performance workouts. In addition, it has a motivational racetrack and comes with a set of 1-lb dumbbells.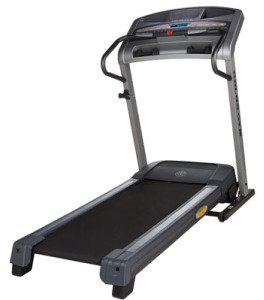 The specs on the Gold's Gym 480 treadmill include:
2.5 HP Motor
1-10 mph QuickSelect™ Speed
1% - 10% QuickSelect™ Incline
18" x 50" walking area
8 Programs
Dual Grip Heart Rate Monitor
AirStride Plus™ Cushioning
300-lb. User Capacity
Warranty: 5-year motor, 90 days parts & labor
The Buzz
UPDATE:  The Club Trainer 480 is an older model that is no longer being sold. You can take a look at all of the most popular models for sale here to compare specs and prices of current Gold's Gym treadmills.
Trainers will point out the shortcomings of the Gold's Gym Trainer 480, such as: the one-pound hand weights are supposed to help you strengthen your upper body as you walk, but they are too light to have much effect on muscle development. The handlebar heart rate sensors are universally cheap on budget treadmills, so don't count on them for accurate readings.
As for construction of the Gold's Gym 480 treadmill, some customers report that the pre-drilled holes on their frames were too small for the bolts when they assembled the trainer, and the ClearView™ display is not backlit so while the readout is clear in a brightly lit room, the console is dim and impossible to read in a dark room. As for the deck, belt, and motor, this is an okay machine, but these are not quality components that can handle daily punishment.
Reviews on the Gold's Gym Trainer 480 remind potential buyers not to expect too much. There's a lot of plastic as well as a "cheap feel" to a budget treadmill and it is easy to get disappointed in it after the first few weeks. This is a small machine, good for a small apartment, but only the lightest of walkers (under 180 pounds) should use it. 
If you really think that this treadmill can carry 300 pounds on a moving belt at 10-degrees of incline at 10 mph on a puny 2.5 motor …well, you'll soon understand why the parts and labor on the Gold's Gym 480 is covered for only the first 90 days. Because when it comes time to call customer service for a replacement part, that's when the real profit kicks in on these trainers – in after-market parts purchases and repair costs.
What We Say
Okay, we will say it: it is impossible to recommend even a passable treadmill that sells for under $500. Treadmills are dynamic, complex machines; only so many corners can be cut before the whole design is an epic failure in quality and execution.
The Gold's Gym Trainer 480 treadmill has nearly reached that low point. The $399 sale price ($499 MSRP) is a waste of money. But don't dismiss all Gold's Gym treadmills as there are better values, they are just priced a little higher.
Wait and save a little more money until you can get the Gold's Gym Maxx Crosswalk 650 for around $649. The Crosswalk 650 has been the best value budget machine on the market for a couple of years now.
Show me other Gold's Gym Treadmills