Best Treadmill Workout Routines – Burn More Calories, Stay Motivated
Some of the best treadmill workout routines you'll find on the web today offer a unique combination of motivation, instruction and music. There's a new style of videos that are even travelogue in nature, but the majority of treadmill exercise videos and audio CDs focus on specific direction from personal trainers.
Treadmill enthusiasts are constantly looking for better ways to keep motivated as they step on their machines three to five days a week for their 30 to 45 minute workout routines.
The travelogue-type exercise videos offer an array of majestic scenery from around the world accompanied by music with an energized beat. The only drawback of course is that after you've watched these workout videos a few times, you're bound to get bored with it. Even a series of eight to ten travelogues can get old quickly.
Tips, Information and Motivation
What you need then is variety among the best treadmill workout routines which offer more than just walking; they must incorporate different steps as well as upper body training.
The reason for this is that muscles become very adept at performing the same physical motions over and over again, and unless something new is demanded of them your treadmill workouts will plateau and you don't get the results you seek. These training tapes tell you when to change speed, incline, resistance, direction, and intensity - in other words, they'll use all of the exercise programs on the machine to challenge your muscles.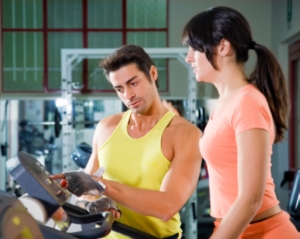 In addition, you never know what kind of tips you'll pick up from these treadmill exercise videos. For example, did you know that it's a good idea to add a few degrees of incline to the treadmill during all workouts? The incline allows gravity to take over some off the workload from the machine's drive system. It's less stress on the motor than constantly working out only on a flat level and this helps to extend the life of the treadmill.
Something Out of the Ordinary
Our favorite CDs are among the best treadmill workout routines you'll find on the internet today. They are produced by Cardio Coach which we discuss in length in our article on Treadmill Music Videos. With these audio CDs, your workouts are so enjoyable that you don't feel like you're working out as hard as you are. You may realize you are producing a sweat and your heart rate is elevated, but the time flies and your conditioning improves in half the time it would take if you were trying to stick to the same boring old treadmill exercise routine.
Learn Overall Fitness Workouts
The best treadmill routines are developed by certified instructors and personal trainers who have experience in getting and keeping people motivated, as well as giving you the optimum workout plan.
The great advantage to these audio and video workout programs is that they successfully address the problem that treadmills only exercise the lower body. The trainers will show you the best treadmill workout routines to burn more calories and build strength in your upper body and core.