Ancheer Treadmills - Are They Worth Buying?
Ancheer treadmills are a relatively new option in the entry level market, offering some interesting features at an affordable price.  With a number of different models to choose from, the company offers something for everyone.
A Look at the Current Models
Ancheer is based in Los Angeles, California and distributes a number of different products from electric bikes to weight products to cycling bikes, as well as office furniture, automotive accessories and electronics.
Their manufacturing plants are located in China and Taiwan, and they are able to provide low cost, value products that customers really appreciate.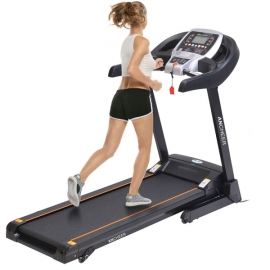 The current lineup consists of about half a dozen models, sold in various places such as Sears and Amazon.  Here are the most popular ones, although you may find a couple of others on sale online.
Ancheer 525
This is the most popular model, a lightweight, compact folding treadmill that is ready to go within minutes of opening the box.  You have a basic LCD with touch buttons, up to 6 mph speed and a 15.74" x 43.7" running area with cushioning.
The unique feature of this treadmill is the ability to control and interact with the machine via Bluetooth using the Smart Treadmill or Sportage app.  It has a max user weight of 240 lbs.
Ancheer 3HP
This Ancheer treadmill seems to be sold exclusively at Sears, and has a 3HP motor, speeds up to 8.6 mph, manual incline capability up to 5% and a max user weight of 242 lbs.
It has a speaker system, Bluetooth capability and an iPad holder.
Ancheer 9460
Here you have a 7" blue backlit LCD display, a 3.0 CHP motor, speeds up to 10.4 mph, max user weight of 286 lbs. and 22.8" x 46.3" belt.
The unique feature here is 12 built in workout programs.
Ancheer S900
This model is a step up with a 10.1 inch touch screen display rather than an LCD.  It is Wifi capable so you can go online while you work out. It is powered by a 3.0 HP motor, speeds up to 9.9 mph and a max user weight of 308 lbs.  
You get a slightly larger running surface than on the 525, 15.74" x 49.6". This machine is also foldable, and has hand grip pulse rate.
Ancheer S6800
This is the one Ancheer treadmill with decent specs, and also the most expensive one in the lineup at around $1500.  You get a large 15.6" touch screen with internet, a 5.0HP motor, a 22" x 59" running deck, max user weight of 440 lbs. and speeds up to 12 mph.

Should You Buy an Ancheer Treadmill?
It's very hard to recommend an Ancheer treadmill, although they have become quite popular for some reason.  They are a step up from manual treadmills, but they are all a bit too pricey for our liking.
If all of the machines above were priced in the $300-$500 range, you could make an argument for them.  But they are all a few hundred more expensive than they should be, putting them in direct competition with much better brands like ProForm, NordicTrack and Horizon.
We have many issues with these treadmills, starting with the subpar warranties.  Even the most expensive Ancheer treadmill, the S6800, comes with a measly 2 years on the frame, 3 years on the motor and who knows how long on labor and everything else.  That's horrible and one of the worst we've come across to date.
That alone gives you an idea of what kind of quality we are working with here, and enough reason to stay away.
Beyond the poor warranty are the less than ideal specs.  The belts are way too small to accommodate most walkers and runners.  There is no incline capability on some models, which is basically unheard of these days even on the cheapest motorized treadmills.
The motors are listed with Peak Power, which is just an indication of their maximum capacity, not an accurate description of the actual horsepower throughout your workout.  Most of the Ancheer treadmills come without any built in workout programs.
You also have the product descriptions, specs and blueprints with typos throughout, which is never a good sign.  It's unprofessional to have such glaring errors throughout.
There is some Bluetooth functionality, internet on some machines and places to put your iPad, so there is a focus on technology, which is a good thing.  But all of the other brands offer this kind of capability these days as well, so it's not really unique.
So we would say an Ancheer treadmill is not going to be a good investment for you.  They're poorly made, with limited functionality, subpar specs and a horrendous warranty.  Stick with more established brands like ProForm and Horizon, both of which provide much better treadmills in the same price range.
Bottom Line on Ancheer Treadmills
With so much competition in the $500-$1000 price range, we're not sure what Ancheer is thinking offering treadmills that compete directly with heavy hitters ProForm, NordicTrack and Horizon.  They come up way short in just about every category, from construction to incline to speed to motor to belt size to workouts to warranties and more.
We can't see any reason to buy an Ancheer treadmill when there are so many better options at the same exact price point.  It just doesn't make any sense.  Again, if they lowered the price of each machine by $200-$300, you might be able to make an argument.
So definitely look elsewhere if you're in the market for an entry or mid level treadmill for walking or light jogging.  We have plenty of great options for you on this site that you will be much happier with.

---