AFG Treadmills – The New Brand from Johnson Health Tech

AFG Treadmill Reviews
The emerging brand of AFG treadmills has an idea that customers want durable, powerful machines that are less complicated. If you don't want to bother with a lot of busy entertainment on a console, this brand will appeal to you.
About the Company
Headquartered in Cottage Grove, Wisconsin, AFG is a relatively new company owned by Johnson Health Tech, the fourth largest maker of fitness equipment in the world. Sold in more than 60 countries, the Johnson brands include AFG, Horizon, Livestrong, and Vision for home users, and the premium commercial brand Matrix.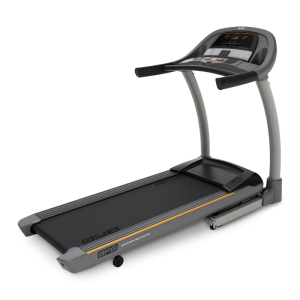 A special design team at Horizon Fitness was given the task of coming up with a specialty-only brand for Johnson. Launched as AFG, or Advanced Fitness Group, it makes treadmills, ellipticals, ascent trainers, stationary bikes, and functional strength training home gyms.
This complete line of cardio and strength equipment emphasizes comfort, simple operation, and quality components. Like the other brands under the Johnson umbrella, none of the components in AFG treadmills are outsourced, they are all made by Johnson, which is also the largest fitness equipment manufacturer in Asia. With plants in Shanghai, China, and Taiwan, this integration ensures that parts work well together.
Compare the Most Popular AFG Treadmills at Amazon
About the Products
AFG currently makes nine folding treadmills and one non-folding model ranging in price from $1000 to $3000. Most treadmills have shorter running areas at 55" in length, but offer good size motors, hydraulic lift assist in the folding models, easy to read LED display windows, and AFG's exclusive ProFILE™ performance tracking technology that records the user's stats for later evaluation. The warranty on the machines is lifetime on the motor and frame, and up to five years on parts, with one-year in-home service.
Will the AFG Treadmill Succeed?
Several pro treadmill reviewers have questioned why Johnson came out with the AFG line, especially treadmills, since they already have the well-reviewed Horizon budget brand in the $600 to $1200 range and the customizable Vision machines from $1500 to $3000.
While AFG can draw on the success of the design and engineering put into Horizon treadmills, that leaves the question of — why do it?
AFG treadmills have not been as well received as the new NordicTrack line or the upgraded Horizon machines, which were already considered some of the most reliable treadmills on the market.
But on the other hand, if Johnson puts as much effort into AFG as they have their other winning brands, there is no reason for AFG not to establish its place among the strong Johnson line-up and finding success among consumers.
Click here to write your own review!
AFG Treadmill Model Reviews
Most Popular Models
AFG 2.0 AT - Everything you need in terms of mechanical design, especially in the areas of power, cushioning, programs, value, and warranty.
AFG 5.1 AT - Outstanding features, programs, and solid treadmill feel – it's a durable ride at every pace.

Older Models

AFG 3.0 AT - Delivers in terms of cushioning, noise level, power, and quality. Unfortunately, the asking price exceeds that of competitor models.
AFG 3.1 AT - A quiet and smooth machine that offers big features for a very reasonable price. The updated redesign of the console and the side arms is a huge improvement over the 3.0 AT.
AFG 5.0 AT - An above average treadmill with standard features and a big price tag.
AFG 7.1 AT - This treadmill is big in every way: power, cushioning, warranty, and value – but not in price. It's a good value at $1,999. 
AFG 13.0 AT - The AFG 13.0 AT gets nice reviews and even earned a Best Buy distinction from Consumer Reports. If you can get it at the right price, it's a good deal.
AFG 1.0 AT - Average scores for power, reliability, warranty, and above average marks for noise level and overall value. A decent choice if you can find it on sale.

---