Weslo Treadmills are Strictly Bargain Basement

Weslo Treadmill Reviews
Weslo treadmills are manufactured by the exercise equipment giant ICON Fitness as the company's budget line. There will always be a market for bargain basement treadmills, and Weslo is targeted to this group. These are strictly stripped-down, make-do products that you should only consider if you really can't afford to cough up the ching for something more substantial.
Odd Concepts
It's funny how well ICON understands the American mind. They've made a series of treadmills that skimp on the basics in terms of power and durability, but included some Weslo models that have interesting extras like iFit compatibility and in one case a small television screen. Uneducated consumers may get sucked in by the lure of getting such swell gizmos at what seems like a great price and forget to check Weslo treadmills out for performance and stability.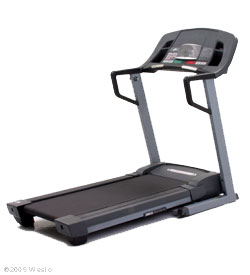 The target audience for Weslo treadmills is the consumer who wants to start exercising but just can't bring himself or herself to pay $1,000 or more for a treadmill that may end up being a very expensive coat rack. That's fine if you know you're going to be doing the minimum – walking periodically with some occasional jogging – but anything else and you'll be sorely disappointed with your Weslo.
Minimal Standards
The Weslo brand of treadmills meets the minimal standards for safety and durability. The skimpy 90-day warranty on all models demonstrates the low value ICON places on satisfying the customer with this budget line-up. Unfortunately, most people who buy a low-end Weslo treadmill ($100-$300) aren't all that satisfied, saying they are insubstantial and loud. Particularly worrisome is the wobble if you weight much over 150 pounds, which would be most people using the treadmill.
The current model lineup includes the Weslo Cadence G 5.9 as well as the Cadence R 5.2, Crosswalk 5.2T and the CardioStride 3.0, all under $300.
Compare popular Weslo treadmills now on sale at Amazon!
Cost-cutting measures on Weslo models include using peak duty motors instead of continuous duty motors. The peak duty motors are considerably less expensive, a saving that's passed on to consumers, but on Weslos they burn out more quickly and tend to overheat easily when you try to push the treadmills to a run. The motors are also a bit small for treadmill running in general. Some of the running decks are as narrow as 13-15 inches, which just isn't conducive to a comfortable stride.
The saving grace of Weslo is that once you hit the $500 price point, you actually do get to what we would consider a reasonable budget offering. Decent width, acceptable motor and a higher weight limit. It's not much in the way of extras, but the money has been diverted to making this an actual treadmill that you can push to running mode. If you absolutely can't go over $500, Weslo treadmills are the only ones we'd consider, but don't go any lower on price.
Click here to write your own review!
Weslo Treadmill Model Reviews
Most Popular Models
Weslo Cadence G 5.9 - A more attractive model than other Weslo machines, but with the flimsy design and weak motor there's no point in taking a chance on this one.
Weslo Cadence R 5.2 - A slightly upgraded G 5.9 with a more powerful motor, cushioning and two levels of incline capability.

Older Models

Weslo CrossWalk 5.0t - If you like a flimsy frame, lots of plastic, a restrictive walking area, cheap deck, weak motor, short 90-day warranty, and notoriously bad customer service, this is your baby.
Weslo Pro CrossWalk 7.8 - A budget machine for the lightweight, casual walker.
Weslo CrossWalk S 7.9 - A total waste of money and you'll be stuck trying to unload it in a year. Spend a little more and get a treadmill that offers better value and a good warranty.
Weslo CardioStride 2.0 - A bargain basement manual treadmill with one of those 'hamster belts' where you provide the power to move the belt under your feet.
Weslo Cardio Stride Plus - Not a good buy at any price.
Weslo Cadence G-40 - A small lightweight person might be able to use this machine for a year or two without problems, just long enough for the 1-year motor warranty to run out.

Weslo Cadence 60 CT - A very basic model designed to be used sparingly by walkers a few times a week. There are no treadmills that sell for $299 that we can recommend in good conscience.
---