The Sole TT9 Review - Brand New Club-Quality Treadmill
The Sole TT9 is the newest treadmill from the growing company, an absolute beast of a machine built for the most intense workouts.
With a powerful 4.0 CHP motor, commercial grade construction, incline and decline capability and an industry-leading 450 lb. maximum weight capacity, this is one of the most advanced treadmills on the market today.
Let's jump into our review to see what this new powerhouse is all about...
Sole TT9 - The Machine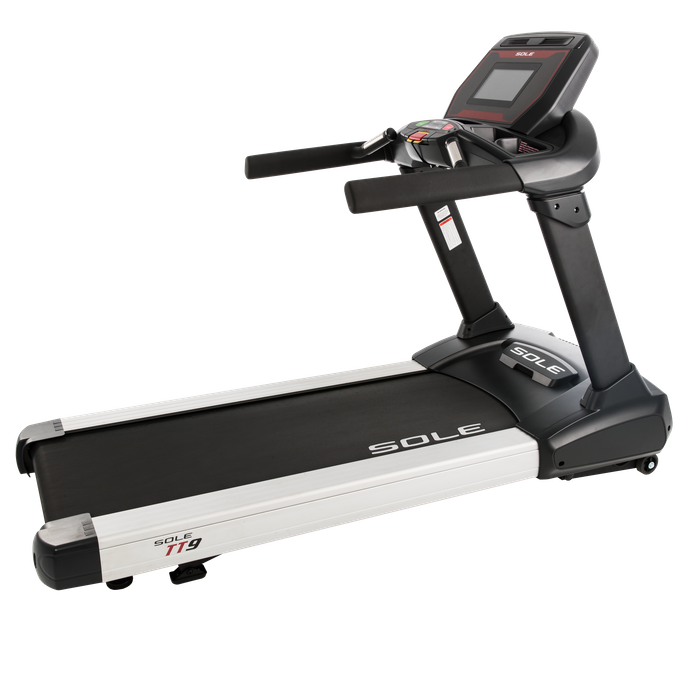 The Sole TT9 is built of heavy-duty steel, with a generously sized running deck and high-end cushioning.
It has a 10" touch screen display showing you all of the important workout feedback including time, distance, calories, program, incline, decline and more.
Here are the most important specs on this treadmill..
4.0 CHP motor
Speed: 0.5 to 12 mph
Incline: 0-15%
Decline: 0-6%
Running surface: 22" x 60"
2 ply, 4 layer belt
10 programs
Pulse/wireless heart rate
MP3 compatible sound system
Two cooling fans
10" touch screen console display
Weight capacity: 450 pounds
Overall dimensions: 58"x 36"x 82"
Residential warranty: Lifetime on frame, motor and deck; 6 years on electronics, 3 years on labor
Commercial warranty: Lifetime on frame, 5 years motor and deck; 3 years on electronics, 1 year on labor

The Buzz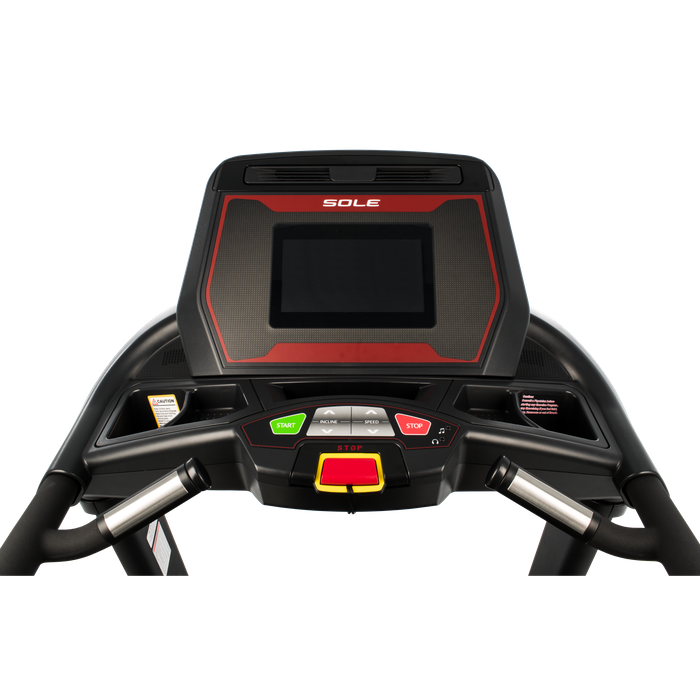 The new Sole TT9 is now the top of the line model in the company's lineup, even more commercial-grade than the popular TT8.
The TT8 has always been a big seller for the company, as it is one of very few club-quality treadmills without the club-quality price.  Similar machines with all of the capabilities of this one would cost $5,000 or more.
The Sole TT8 and its new big brother, the TT9, are both under $3,500...a real bargain by comparison.
For starters, you get the most advanced motors on the market today.  It's a 4.0 CHP AC motor, an upgrade to the DC motor found on all of the other Sole treadmills.
AC motors are more rugged and tend to last longer, with less maintenance required.
The Sole TT9 gives you a large 22" x 60" running surface, with the advanced Whisper Quiet cushioning that reduces impact on your joints up to 40%.
You have incline up to 15% and decline to 6%, something you don't typically find.  This flexibility allows you to target different muscle groups in the legs, as well as challenge yourself with a more effective cardio workout.
(Note that NordicTrack offers decline treadmills as well, but they are not as commercial-grade as the Sole TT9)
Speaking of cardio, you get a number of heart rate control programs in addition to 8 other built in workouts.
You can measure your heart rate with the grips or wirelessly with a chest strap for more accuracy.
The Sole TT9 treadmill is the first one to include a touch screen display, something that customers have been asking for for quite some time.
It's really the only thing that has been missing from the lineup, and something their competitors NordicTrack and ProForm have offered for years.
Along with the relatively new Bluetooth workout tracking, the Sole TT9 has just about everything you could ask for.
It's also backed by a very strong warranty, and with its hefty 450 lb. max user weight capacity, it's equally at home in a residential or gym setting.
The Sole TT9 is an incredible treadmill strong enough to handle the most intense workouts, yet with all of the comfort and entertainment features you could want.
How Does the TT9 Compare to the Other Sole Treadmills?
As we mentioned, the TT9 is the top of the line model in the Sole treadmill catalog, so it's going to give you features and capabilities that the other machines don't have.
Keep in mind that all of the Sole treadmills are great, and there's something for every fitness level and budget.
Let's take a look at the full lineup to see how the TT9 compares to the rest...
Currently you have 4 folding treadmills, designated with an "F" in their model names, and 3 non folding treadmills.
Folding Sole Treadmills
The entry level F63 is the base model in the series, with a 20" x 60" running surface, a 3.0 CHP motor and a 6.5" LCD display.
The F65 expands the running surface to 22" x 60", with a 3.25 CHP motor and a 7.5" display.
The F80, our top rated home model, bumps up the motor to 3.5 CHP and gives you a larger 9.0" display.
The F85, the most advanced folding model, gives you a 4.0 CHP motor and large 10.1" TFT LCD display.
Non-Folding Sole Treadmills
The S77 is almost identical to the F85, except it does not have folding capability.
The TT8 is the previous top of the line commercial model, with a 4.0 CHP motor, decline capability, a 10.1 TFT LCD display and a 400 lb. max weight capacity.
The new TT9, as you read about above, improves upon the TT8 with a 4.0 CHP AC motor, a 10" touch screen display and a hefty 450 lb. max user weight.
All of the Sole ellipticals have 10 built in workouts, 15 levels of incline, great cushioning and at least 325 lb. max weight capacities.
But as you can see as you move up in the lineup you get stronger motors, larger decks, bigger displays and higher max weight capacities.
Note that warranties improve as you move up in the lineup as well, with the Sole TT9 treadmill giving you the strongest coverage.
Is the Sole TT9 Worth Buying?
If you're a runner and you're looking for a rock solid treadmill that won't break the bank, the Sole TT9 is definitely a great choice.
As the only Sole treadmill with a touch screen, we'd say it's a better option that the TT8, simply because it makes for a much more enjoyable experience
However, it is about $1000 more than the Sole TT8, so you have to decide if the stronger motor and new touch screen are worth the additional cost for you.
What about compared to the other Sole treadmills?
You definitely don't need to spend over $3,000 to get a great treadmill, and there are some great models in the lineup that are considerably less expensive.
For example, one of our top rated home treadmill picks is the Sole F80, which is less than half the price of the TT9 when it's on sale.
Sure, it's not as commercial grade as the TT8 or TT9, but you may not need that level of quality for home use.  
Most of us will be perfectly suited with one of the other models, as they are all very well built and designed, with great cushioning to reduce impact and plenty of capability.
So we would say if you have the budget and want the highest grade machine that will last a lifetime maintenance-free, by all means go for the TT9 or save a little money and opt for the TT8.
For everyone else, consider one of the other folding or non-folding models from Sole.  Either way, you can't go wrong.
Sole TT9 Review - Bottom Line
Sole really knocked it out of the park with this one.  They took all of the great features of their popular TT8 and made it even better, with a more powerful motor, a higher max weight and the company's first touch screen display.
If you're looking at their higher end models, we would lean towards the TT9 over the TT8 if it's within your budget.
If these are a bit too steep for you, look at the F80 or F85 folding models, or S77 if you don't want a treadmill that folds.
At the end of the day you will be more than happy with any Sole treadmill that you purchase.