The Sole F65 Treadmill Review – An Upgrade of the Popular F63
The new Sole F65 treadmill improves upon several features of the popular base F63 but keeps cost in line, making it a great choice in the price category.
With advanced impact-reducing cushioning, large runner's deck and impressive incline capability, this one is a real winner and a smart choice for the home gym.
Sole F65 - The Machine
The F65 is all black with red accents, with a strong, sturdy frame and well-cushioned belt designed to reduce impact significantly. New to the treadmill is Bluetooth workout tracking, a great feature to have.
Let's look at some of the best features...
3.25 CHP motor
Speed: 0.5 to 12 mph
Incline: 0-15%
Running surface: 22"x 60"
2.5" rollers
Bluetooth technology
10 programs
Pulse grips for monitoring heart rate; compatible with chest strap
MP3 compatible sound system
Two cooling fans
7.5" LCD console display
Weight capacity: 350 pounds
Overall dimensions: 57"x 37"x 82"
Warranty: Lifetime on frame; lifetime on motor; 3 years on deck and electronics, 1 year on labor

The Buzz
Many reviews of the Sole F65 treadmill have noticed the obvious - that this folding treadmill is a good machine for the price point that tweaks some of the features of their incredibly popular F63.
This is an excellent treadmill if you're looking for Sole quality but simply can't spend $2000 or more for in-home workouts. Reviewers love the beefed-up, 3.25 hp continuous duty motor and they appreciate the slightly increased weight capacity at 350 pounds.
A few users noticed a definite difference in performance, attributing a smoother run to the generously sized 2.5" rollers. The only reservation some users have had is a familiar one with the Sole treadmill lineup - a lack of variety in the number of programs or routines.
Although ten is respectable, there are other treadmills at this price point that offer more variety.
Still, you get a lot of great features on the F65: a large, well-conditioned deck, a 350-lb weight capacity, a nice display, up to 15 levels of incline, wireless heart rate monitor included for free and a generous warranty.
One of the newest features on the Sole F65 is Bluetooth technology which allows for workout tracking. This is something that users have wanted for quiet some time, as more and more companies, such as NordicTrack, offer tracking and a host of other interactivity on their treadmills and ellipticals.
Now that Sole has that capability their cardio machines are more appealing than ever before, especially since they have not increased their prices.

How Does the F65 Compare to the Other Sole Treadmills?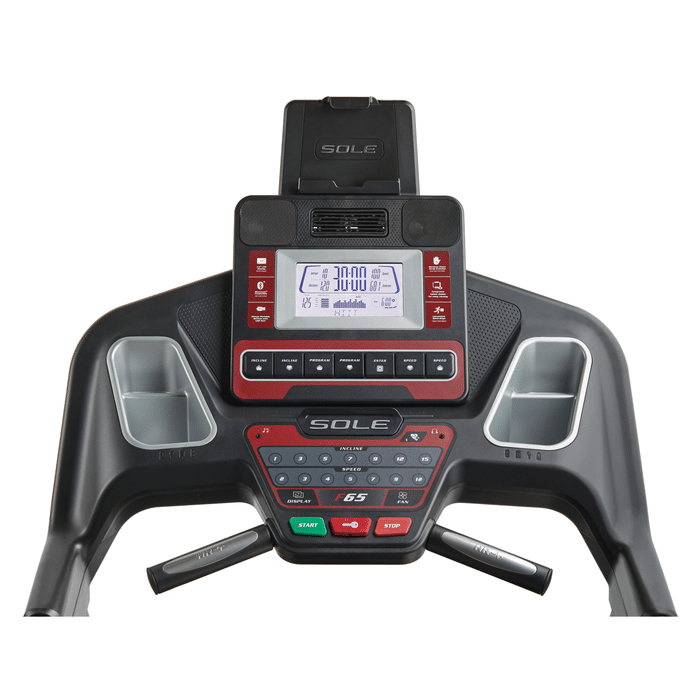 The Sole F65 is one of four folding treadmills in the company's lineup, along with two non-folding models.  As we mentioned, it's a step up from the entry level F63, which is one of their most popular treadmills.
Let's take a look at all of them briefly just so you can see how the F65 compares to the rest...
The base F63 model gives you a 20" x 60" running surface, a 3.0 CHP motor, 15% incline, 10 built in workout programs, 6.5" LCD console and a 325 lb. max weight capacity.
The F65, as you've read about above, jumps up to a wider 22" x 60" deck, a stronger 3.25 CHP motor, a larger 7.5" LCD and a heavier 350 lb. max weight.
The popular F80 improves upon the F65 with a 3.5 CHP motor, 9" LCD display and a 375 lb. max weight capacity.
The top of the line folding model, the F85, gives you the strongest 4.0 CHP motor, largest 10.1" TFT LCD display with touch capability and popular apps, and the heaviest 400 lb. max weight capacity.
You then have the two non-folding Sole treadmills:  the S77 and the TT8.
The S77 is essentially the same as the F85, except with a lighter, slightly shorter frame.  The most advanced in the series is the TT8, a light commercial version of the S77 with added decline capability.
So the Sole F65 treadmill is a more advanced version of the F63, and as you move up in the lineup you're going to get stronger motors, larger displays and heavier maximum weight capacities.
Which Sole Treadmill Should You Buy?
When considering Sole treadmills think about your budget and your needs.  If your budget is very tight, and you'll be OK with an entry level treadmill for lighter use, look at the base F63.
For everyone else, we recommend at least the F65 as it gives you the stronger motor and wider deck, as well as the enhanced display and higher max weight capacity.  It's worth the additional $500 in our opinion.
Our favorite of all of the treadmills is the the Sole F80, which has made the Treadmill Talk top overall list for several years running.  It's a bit more durable than the F65 and can stand up to heavier use.
You don' necessarily need to jump up to the F85 unless there will be multiple users who are on the heavier side.  Same is true of the non-folding S77 and TT8. 
All three of those machines are awesome, but for most users the F65 or F80 are plenty of treadmill.
Sole F65 Review - Bottom Line
The Sole F65 may become the new favorite treadmill in the Sole line-up due to some refinements to the oversized, 7.5" console. It's easy to read and features a peak and valley graph and iPod docking station to keep you entertained while you're working out.
The incline can be raised up to 15%, which can really whip your butt if you're used to a more standard 10%-12% incline.
Despite having fewer programs than a few other brands, the Sole F65 treadmill has more than enough variety for in-home users who are using it for health or fitness reasons but aren't planning on entering an Ironman or triathlon.  
And now with the new Bluetooth technology, you can sync your workouts to your favorite fitness apps for tracking and sharing...a nice addition.
Also take a look at the up-level F80 if you want a bit more.  It's only a couple of hundred dollars more expensive and is an even more advanced version of the F65.