FreeMotion Treadmills – ICON's Club-Level Luxury Brand

The club level FreeMotion treadmills are just about the most exciting machines we've seen in a long time. They are an ICON brand now, having been acquired in 2001, and renamed FreeMotion Fitness after their original name, Ground Zero Fitness, became a downer after 9/11. The appeal of these beauties can be described in one word: luxury.

ICON's Specialty Brand
ICON Fitness puts out mass market import treadmills such as Epic, Healthrider, ProForm, Weslo, and Reebok. The new Freemotion brand is their attempt to carve a niche among the high-priced, club-level specialty market, and they've got a winner with these machines.
Not only are they made with premium parts, different from the other sister brands, they even have a separate customer service division.
Luxury and High Performance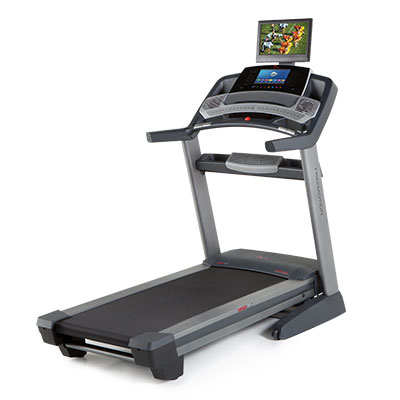 FreeMotion treadmills offer unparalleled luxury. They are equipped with a powerful self-cooling, spin-balanced CHP motor; 2.5" to 3.5" precision-crowned rollers; and large 60" Commercial Quiet belts.
The FreeMotion brand of treadmills also features BioStride™ Deck cushioning which absorbs the impact at the front of the belt where the foot falls, yet will be firmer at the rear of the deck where the back foot pushes off. The adjustable cushioning technology lowers impact on your joints by up to 38%.
The most popular models include the 790 Interactive as well as the 850, 860 and 890 models, as well as the 1500GS, 2500GS and the i11.9 and 2000GS Incline Trainers.
The treadmill warranty is also premium and worth a mention: lifetime on the frame, up to 20 years on the motor, 5-7 years for parts, and 1-2 year on labor, depending on the machine.

Perfect Scores in Reviews
All leading consumer magazines and review sites who have done write-ups on FreeMotion Fitness machines give them high marks (except for one lower end model which looks to be an ICON knock-off). The line starts at $1,999; the elite model is retail priced at $4,499. The best treadmill models start at around $3,200.
The quality and performance of these treadmills blow the reviewers away. The strengths are in the design, console, programs, large walking area, low noise, full power, and extra cushioning, as well as in the overall quality and value. We can't think of a treadmill that ever scored so high in all areas.
Both the residential and light commercial line of FreeMotion treadmills (not to mention the exciting new Incline trainers), are competitively priced to go against Landice, Bodyguard, and other brands that dominate the $2,999 to $3,999 price class.
What We Say About FreeMotion Treadmills
The FreeMotion treadmills are very high quality.  We've been using them for years at the gym along with their strength equipment and it's always been a great experience.
We wouldn't necessarily buy them from the company site, however, as you can get much better deals on FreeMotion ellipticals at places like Amazon which offer discounts and sales that you don't often find on the manufacturer site.
Take a look at the 850, 860 and 890, all of which if you can snag at under $2000 you're getting a good price.
Click here to write your own review!
Model Reviews
FreeMotion 790 Interactive Treadmill- The FreeMotion 790 is a complete entertainment center loaded with a 15" TV screen attached, a 10" web browser, and a music port with speakers for an MP3 device.

FreeMotion 750 Interactive Treadmill - The FreeMotion 750 offers an advanced incline / decline deck, plus a large AC motor, and a wide selection of programs and entertainment features.
FreeMotion 770 Interactive Treadmill - A folding treadmill with many of the same features as the 750 model but with a more powerful motor and a touch screen display.
Freemotion XTr Treadmill - a very nice machine with above average value depending on the price you pay; cushioning, low noise level, choice of components, and overall quality are first rate.

Freemotion 3000 XLS Treadmill - a health-club quality dream machine for under $2000.
Freemotion 3500 XLS Treadmill - high ratings for value, superior quality, durability, style and features.
---