The ProForm Boston Marathon 3.0 Treadmill for Serious Runners
The ProForm Boston Marathon 3.0 treadmill is manufactured by ICON Fitness and is a departure for the company, which usually makes low to mid-range treadmills that give you solid entry level performance. The Boston Marathon treadmill is an entirely different creature with a sales price of $2,499, down from the staggering list price of $3,999.
The Machine
This is a machine developed by ProForm and the Boston Athletic Association to appeal to serious runners. It has two marathon training programs that adapt to your fitness levels over 16 weeks and 20 weeks and loads of extras that are geared specifically toward marathon runners. The 10" touch screen is for HD marathon videos that you can exercise to with inclines and declines that adjust automatically to the terrain in the videos.

The specs for the ProForm Boston Marathon 3.0 treadmill are: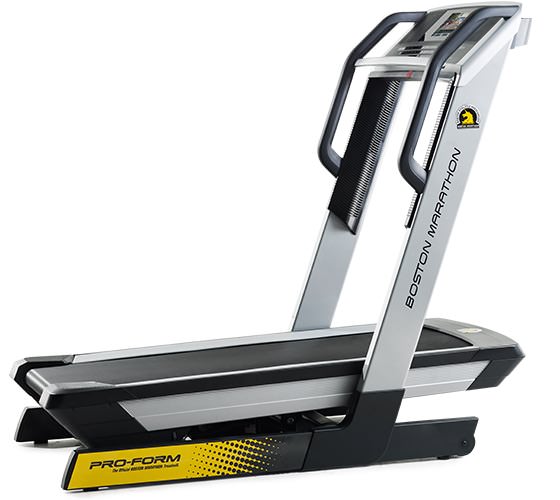 Running surface: 20"x 62"
4.25 CHP motor
Speed: 0 to 15 mph in 1/10 mile intervals
Incline: -6 to 20%
2 Ply Commercial Belt
Two customizable workouts, 16 weeks and 20 weeks
HD marathon videos
Cadence training system
Running efficiency gauge
Pulse grips for monitoring heart rate
MP3 compatible sound system
Two 8" core cooling fans
10" LCD console display
Weight capacity: 400 pounds
Warranty: Lifetime on frame and motor; 6 years on parts and electronics, 3 years on labor
The Buzz
UPDATE:  Due to poor sales the Boston Marathon 3.0 was discontinued in 2017.  Check here for some great running treadmills.
Serious runners love the ProForm Boston Marathon 3.0 treadmill because it caters to their unique needs. It monitors everything from your stride rate to the cadence of your running gait and gives you constant feedback.
Reviewers are enthusiastic about the stripped down, clean lines and the powerful 4.25 chp motor, which stands up to even the most grueling marathon runs. Reviewers rave about the incredibly detailed training programs and the way the HD videos combined with the responsive incline/decline give them the sensation that's surprisingly close to the real thing.
Another favorite feature in the reviews was the clip-on speed ring, which resembles a finger pulse monitor but adjusts the speed to your heart rate for an effective workout. (Note the speed ring is currently only available on the 4.0 model)

The sheer number of unique features on the Boston Marathon treadmill makes it so unique that it's difficult for reviewers to compare it to anything else on the market. But even with all the extras, most reviews written by serious athletes acknowledge that the initial list price was steep. When it's on sale for $2,499, however, it's an easy treadmill to fall in love with for anyone who runs marathons.
What We Say About the Boston Marathon Treadmill
Where do we start? Plenty of input from marathon runners has gone into this monster of a machine. The cadence training system on the ProForm Boston Marathon 3.0 treadmill uses an audible beep to alert your running cadence isn't consistent, and the stride rate monitor counts your steps per minute.
If there's a function that could improve your performance that isn't included on the Boston Marathon treadmill, it's because it hasn't been invented yet. We referred to this treadmill as a monster earlier, and it is a big, hulking machine that is deceptively streamlined looking, due in large part to the lack of a motor hood or side arms so that you can run more naturally and swing your arms without restriction. 

As a combination of reliability, durability and style with the genuine chops to help marathoners improve their overall capabilities, nothing can touch the ProForm Boston Marathon 3.0 at its sale price.
If you're looking for an entertaining treadmill but you don't need the marathon focused features like stride rate and the unique training programs, there are other treadmills with a 10" Android™ browser and lots of cool gadgets for less money. But this treadmill is a thing of beauty!