The ProForm Boston Marathon 4.0 Takes Training To the Next Level
The ProForm Boston Marathon 4.0 is a runner's treadmill with all of the features you need to prepare yourself for the next race.  Featuring a powerful motor, HD video workouts and SpeedRing technology, this is one of the most unique machines on the market today.
The Machine
The 4.0 features a 10" full color touchscreen with an Android web browser, so you can see all of your relevant specs such as time, distance, calories, heart rate, incline and decline as well as surf the web, watch videos and update your social pages.
Let's take a look at the important specs...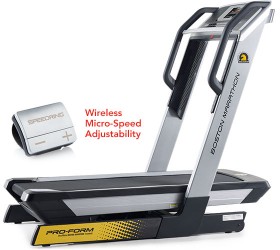 Running surface: 20"x 62"
4.25 CHP Mach Z commercial motor
Speed: 0 to 15 mph
Incline: -6 to 20%
10" Full Color Touch Screen/Browser
Two customizable workouts: 16 weeks and 20 weeks
HD marathon videos
Cadence training system
Running efficiency gauge
Pulse grips/wireless heart rate
MP3 compatible sound system
Two 8" core cooling fans
Weight capacity: 400 pounds
Warranty: Lifetime on frame and motor; 6 years on parts and electronics, 3 years on labor
The Buzz
UPDATE:  Due to poor sales the Boston Marathon 3.0 was discontinued in 2017.  Check here for some great running treadmills.

Reviews of the Boston Marathon 4.0 from runners have been very positive, as it offers a great way to train for the big race, without the hefty price tag of some of the other training treadmills.
For starters, the included HD videos let you work out on the actual Boston Marathon course via Google maps.  Better still, the treadmill automatically adjusts the incline and decline to match the terrain, from a decline of -6% up to an incline of 20%.
The machine is also equipped with the company's iFit technology, which allows you to choose any other location in the world to train in, plus tap into additional workouts and track and share all of your results.
Another unique feature not found on the 3.0 model is something called the SpeedRing, which you wear on your finger.  Using your thumb, you can increase or decrease your speed in 1/10 mph increments via Bluetooth technology.  This is ideal for those who don't like to break their stride at all while they workout, i.e. every serious runner out there!
The Boston Marathon 4.0 comes with a strong 4.25 CHP motor, a nice-sized 20" x 62" deck, a free wireless chest strap for more accurate heart rate monitoring and a Cadence Coach to boost your efficiency.
Other touches include Runners Flex impact control so you can choose your own cushioning, iPod audio and the 10" touchscreen which allows you to go online while you work out.
Did we find any negatives during our Boston Marathon 4.0 review?  The only real drawback here is the price.  At $2,999 on sale, it's up there with the commercial brands like Life Fitness and Precor.  But it is certainly packed with a lot more features and capabilities than those treadmills, even if the quality is a bit lower.
If you want to save a little money, opt for the 3.0 which is about $500 less.  The only thing you'll be sacrificing is the Key Ring and the wireless heart rate monitor, both of which are not included on the entry level model.
What We Say About the Boston Marathon 4.0
If you are training for the big race, or any other major run, the Boston Marathon 4.0 is a great treadmill to prepare you for it.  You get high definition videos of the actual race, the machine automatically adjusts your incline and decline, you have a touch screen, iFit maps, web capability, great cushioning...the list goes on and on.
It's interesting to note that the series also does not have the stationary handles jutting out like you find on most other treadmills.  Rather, there are horizontal handlebars alongside the control panel, which makes running and moving your arms much easier.
SpeedRing and Cadence coaching are two great features you won't find elsewhere, and there is a ton of adjustability.
Check out the Boston Marathon 4.0 and see if it's the right machine for you.  Again, take a look at the 3.0 as well if you want to save a few hundred dollars.