The ProForm 350 Treadmill - A Cheap Machine for Basic Workouts
Another offering in the ProForm line, the ProForm 350 treadmill looks like a deal, but might not be what your workout routine needs.
The Machine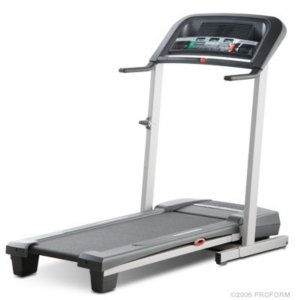 As with other ProForm treadmills, the Proform 350 treadmill has some nice features to go along with any workout:
2.25 HP motor
17"x 50" running surface
Cushioned deck
Power incline
Blue LCD display
Target pulse sensors
Workout fan
250 lbs user capacity
3-year motor warranty; 90 days parts & labor
The Buzz
UPDATE:  The ProForm 350 has been discontinued.  Check out the new ProForm lineup here to find a comparable machine:
When it comes to building a name, ProForm is certainly one of the most widely known in terms of their treadmills. However, the ProForm 350 is one of the simplified models designed for the beginner to treadmill workouts. With this in mind, potential buyers need to be aware of some downfalls of this model.
The ProForm 350 treadmill has a slower motor than most treadmills on the market today – only 2.25 horsepower in comparison to many models' 2.5 or 2.75. This creates a problem for someone who either wants to run harder or wants to eventually run faster.
Another concern for the motor is that the lack of horsepower may also indicate that it's a motor that might not last for more than a year or two.
Experts are also concerned about the low weight capacity for the ProForm 350. While this model of ProForm treadmills looks strong, it seemed a little shaky during testing, which may indicate future need for repairs.
The Proform 350's Target Pulse Sensors were accurate in testing, but they're difficult to use and much more appropriate for the walker as opposed to the runner. You have to place your hands on the sidebars, which was difficult for testers.
A major concern for the ProForm 350 is the short warranty, but the company has plans to extend the motor warranty – which is a good thing for this particular treadmill model.
What We Say
The ProForm 350 treadmill is a cheap model, but it might end up costing you more in parts and labor in the long term. Instead, you may want to look into the Weslo Cadence C72 as it has more horsepower for even less money.
However, if you're really looking to go the long haul with your treadmill purchase, spending a few hundred dollars more for a ProForm 6.0 GSX or Healthrider R65 might be a worthwhile investment.