The Sole F63 Folding Treadmill – Great Entry Level Model
The Sole F63 folding treadmill improves upon the popular earlier version with a few upgrades for the new year, while keeping the durability and quiet performance that it's always been well known for.
The Machine
For the new model year, Sole has tweaked some of its most popular treadmill models, including some improvements to one of its most popular models, the F63. This is a truly impressive machine that lists for $1,899, but sells direct on the company website for less than $1,000, including delivery.
The delivery costs alone will save you anywhere from $200 to $300. The Sole F63 folding treadmill has many of the same features as older models with a few notable improvements, including larger, 2.5" rollers to improve the life of the belt, slightly longer overall length in order to accommodate a 5" longer running surface, greater speed and Bluetooth capability.
Let's take a look at some of the best features...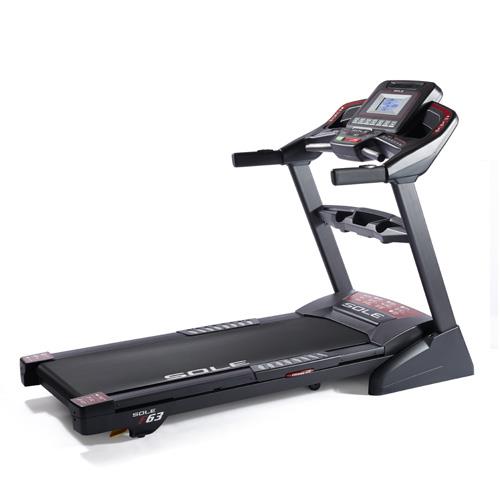 3.0 CHP motor
Speed: 0.5 to 12 mph
Incline: 0-15%
Running surface: 20" x 60"
2.5" rollers
2 ply, 4 layer belt
10 workout programs
MP3 compatible sound system
Two cooling fans
6.5" LCD console display
Pulse grips for monitoring heart rate; compatible with chest strap
Weight capacity: 325 pounds
Overall dimensions: 57" x 35"x 82"
Warranty: Lifetime on frame and motor; 3 years on deck, parts and electronics, 1 year on labor

The Buzz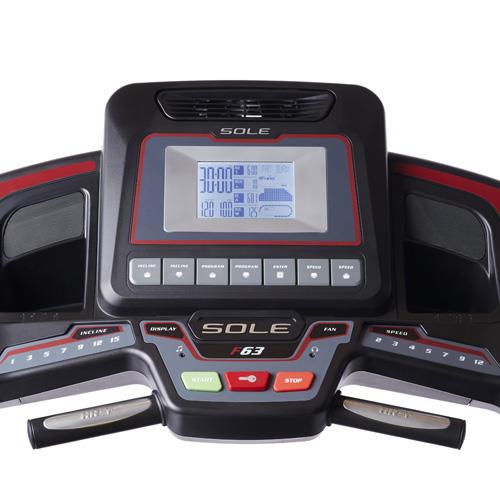 Sometimes a company shouldn't mess with something that's already a success, but in this case, Sole seems to have improved on some already stellar specs. Runners are unanimous in their praise of the running surface, which is a full 5" longer on the Sole F63 folding treadmill for the new year.
The company has also improved the speed range, which can now top out at a full 12 miles per hour as opposed to earlier models that could only reach 10 mph.
You get a strong, yet quiet 3.0 CHP motor, which is very capable and delivers high level performance.
Another welcome change on the Sole F63 is Bluetooth technology that allows you to track your workout results on the Sole App or transfer your workout information to your favorite fitness apps.  It's rare to find this capability on a $1000 treadmill, so we're very excited to see it here.
One of the complaints users have always had about Sole is their lack of tracking/technology...now they're starting to introduce features like Bluetooth to answer those complaints.
A few features haven't changed on the Sole F63 treadmill, which is a good thing. Why mess with success? Owner reviews continue to praise the quick speed and incline adjustment buttons that are located along the sides of the console so you can shift without breaking stride.
You get the same Cushion Flex Whisper Deck that reduces impact on your joints up to 40% and provides a smooth and quite workout.  You can incline up to 15 different levels to make your workout more challenging.  You can measure your heart rate either via the pulse grips or using the free wireless chest strap for more accuracy.
Just like on the other Sole treadmills, you get a total of 10 workout programs.  That might not seem like a lot but the programs are diverse enough to keep things interesting.  You also have the easy folding ability that has become a trademark of the brand.
Any downsides? Not really, especially at this price.  The 20" width can accommodate most users, but if you think you might not a little more width, take a look at the up-level F65 model, which is 22" wide and will also give you a stronger motor and larger display, or the F80 treadmill which is a step above the F65 and our top home treadmill pick.
You don't get the touch screens that some other treadmills have, like the comparable NordicTrack C990, but it's certainly not a deal breaker as everything else about the Sole F63 is top notch.
What We Say About the F63
There simply isn't a better brand out there offering a top quality treadmill for less than $1000. Sole's industrial grade motors and welded steel frames can take an incredible beating and still outperform many models at a higher price point.
The oversized rollers and all steel flywheels create virtually no vibration and give you whisper-soft performance so that you can exercise any time of day or night without worrying about the noise bothering the neighbors.
The Sole F63 folding treadmill has quickly established itself in treadmill reviews as the ideal $1000 machine, and we couldn't agree more.  You'd be hard pressed to find something of this quality.
If you want a little more treadmill, take a look at the F65 and F80 with their wider decks and stronger motors.  But you really can't go wrong with any of the Sole Fitness treadmills, as they continue to top our Best Buy lists year after year.