The NordicTrack X22i is the Most Advanced Incline Trainer
The X22i joined NordicTrack's Incline Trainer late in 2016 as a brand new 2017 model.  It is the first machine to feature an extra large Smart HD display and two adjustable dumbbells, taking your training to a whole new level.  This one might just turn out to be the ultimate workout experience.
The Machine
The X22i is solidly built, mostly dark black with grey accents.  It features a huge 22" Smart HD display (hence the name), multi grip handlebars, two dumbbell stands and leveling feet.
Let's take a look at some of the best features...
4.25 CHP DurX™ Commercial Pro Motor
22" x 60" Tread Belt
0-12 mph 1-Touch™ Speed
0-40% Incline / 6-0% Decline
44 Workouts
SpeedWeight adjustable dumbbells
Reflex™ Cushioning
iFit Coach Plus Ready
Wireless heart rate strap included
300 lbs User Weight Capacity
Dual AutoBreeze workout fans
Warranty: Lifetime on frame, motor, deck; 6 years parts, electronics; 3 years labor

The Buzz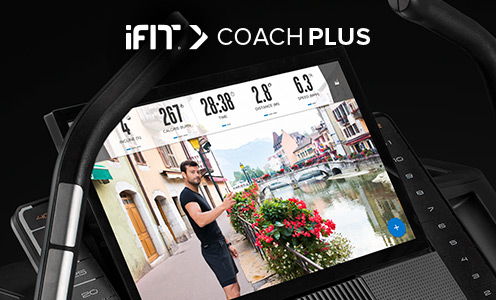 The NordicTrack X22i Incline Trainer is receiving a ton of buzz in the industry, and early reviews are very favorable.  The treadmill offers features that we've never seen before, and it's going to be interesting to see how it is received.
The new X22i is an improvement on the previous top-of the line model, the X11i, which itself saw an upgrade this year.  It shares many of the same great features, but takes it to a whole new level.
The most noticeable change, as I'm sure you are aware, is the addition of a huge 22" Smart HD touch screen display, twice the size of any screen NordicTrack has had to date.  It's like having a large tablet right on your machine, eliminating the need for any additional devices.
On the screen you can access the latest version of the company's interactive program, now called iFit Coach Plus.  In addition to seeing all of your workout stats like calories, incline, decline, time distance, etc. you also have a personal trainer who will guide you through workouts in locations throughout the world.
There are also daily workout videos and customized meal plans based on your fitness goals.  Lastly, you get a free wearable workout tracker and free adjustable dumbbells with your iFit Coach Plus membership, which runs about $39 a month currently.
The other major change is the inclusion of two adjustable SpeedWeight dumbbells, which you can use on and off the treadmill.  The personal trainer also shows you how to use them with different routines.  There's a stand for each on either side of the treadmill.
On top of the huge new screen, iFit Coach Plus and new dumbbells that were never included previously, the X22i Incline Trainer is packed with great features and capabilities.
You get up to a 40% incline and -6% decline, so you can really target all of the muscle groups effectively.  You get a generous 22" x 60" deck that can accommodate all users.  You get 44 built in workout apps on top of the ones you get with iFit.  You also get a free wireless heart rate monitor for more accurate readings to keep you in your ideal range.
The new 2018 NordicTrack X22i Incline Trainer really has it all.  It's the cream of the crop treadmill from the company, and is sure to be one of its biggest sellers.
The only downside we can see is that it is expensive compared to all of the other models, so it is probably out of the reach of many potential buyers.  If so, one of the other Incline Trainers might be a more affordable option of you're looking for incline/decline capability.
What We Say About New X22i
This is probably the most exciting release from the company in some time.  The large Smart HD display and the included dumbbells really take your workout to the next level. Add to that iFit Coach Plus personal training, incline/decline, easy assembly and loads of workouts and this one is a real winner.
If it's a bit out of range for you then consider the X11i or X9i...both are also great choices for an incline/decline workout.