Gold's Gym Treadmills are Decent Entry Level Machines
Gold's Gym Treadmill Reviews
Gold's Gym treadmills currently come in only a few models, but that may be changing in the future as the manufacturer puts more money into development of the line.
We suspect that ICON Fitness, who actually makes them, will do this because they've recently started selling the treadmills through Sam's Clubs. This should increase their popularity with the buying public considerably.
Like other ICON brands such as NordicTrack and Reebok, the treadmills are licensed with the name Gold's Gym, but otherwise have no connection with other products by that company.
We have to admit that ICON is a genius at marketing – they find fitness companies that are well-known by the public, then purchase the right to sell a line of their own treadmills under that name.
Entry-Level Treadmills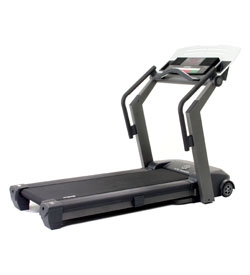 ICON makes a respectable entry-level treadmill with their Gold's Gym model, although the recent price increase is disappointing. From $1,000 to $1,300 is a substantial jump in this category. At the old price you were getting a genuine bargain, since the machine was pretty well made for a beginner's treadmill. Gold's Gym gave a solid performance for walking or light jogging, but wouldn't be suitable for full-on workouts.
UPDATE: As of 2016, the Gold's Gym models have come down in price once again, making them a bit more appealing. Currently only the 420, 620 and 720 are available in the $400-$800 price range:
Compare Gold's Gym Treadmills at Amazon
Once you've raised the price by three hundred dollars, however, you're running into competition from other companies that offer more stability and better warranties on their treadmill lines in the same price range.
If you like the cache of a brand name, the treadmills are okay but not spectacular. But with so little in the way of choices, it's difficult to say what the future holds for Gold's Gym treadmills. The next few years will tell.
Click here to write your own review!
Golds Gym Treadmill Model Reviews
Most Popular Models
Gold's Gym Trainer 720 - the most popular current model with incline, iPod plugin, space saver design and 18 workout programs.
Older Models
Gold's Gym Trainer 480 - A budget treadmill good for a small apartment, suitable only for the lightest of walkers.
Gold's Gym Trainer 550 - Nice cushioning, quiet operation, strong value for a low price. We are impressed by all the positive comments left by owners in reviews.
Gold's Gym Club Trainer 690 - A few nice features but nothing outstanding other than the individual weight input to get more accurate calorie-burn calculations during the workout.
Gold's Gym Trainer 1190 - A decent machine, but the price is a turn-off. We recommend that you don't pay full price for it; wait until it sells for under $1000.
Gold's Gym CrossWalk 570 - A terrific treadmill with an amazing number of features for a machine priced at just $599.
Gold's Gym Maxx CrossWalk 650 - The Crosswalk 650 has been the best value budget machine on the market for a couple of years now.
Gold's Gym Maxx Competitor 1080 - Rates well for quality of the motor and belt, customizable deck cushioning, noise level, smooth operation and variety of programming.
Gold's Gym Club Interactive 890 - A decent machine offering exceptional value if you can snag one on sale for around $800. In 9 out of 10 reviews, it exceeded expectations.
---