The Bowflex BXT216 is a Brand New Treadmill
The Bowflex BXT216 is one of two brand new treadmills from the company behind the enormously popular TreadClimbers and Max Trainers, ushering in a return to the traditional cardio machine market.  
After a brief hiatus, they are offering a new Results Series line, improving on previous models and hoping to capture a chunk of the mid-price range market currently dominated by NordicTrack and ProForm.
The Machine
The BXT216 features advanced cushioning, large clear console and a generously sized deck.  Let's take a look at some of the best features...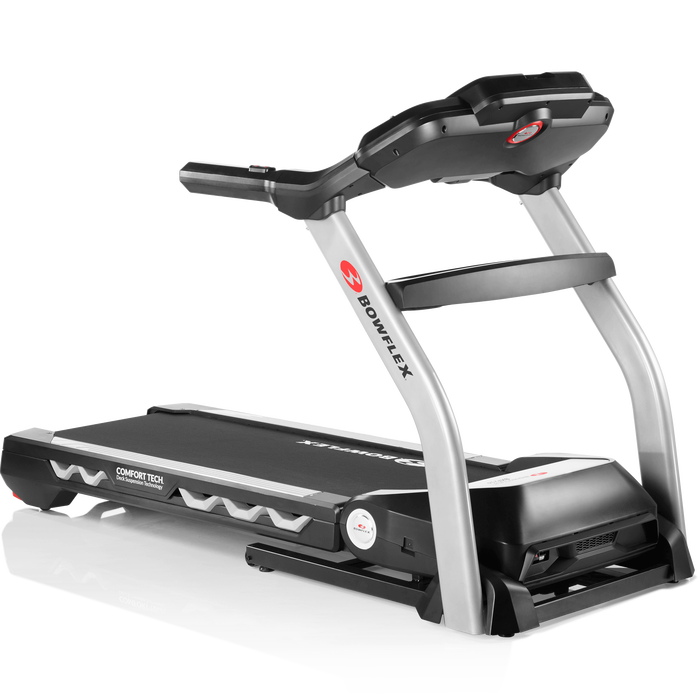 4.0 HP continuous duty motor
12 mph maximum speed
11 Workout programs
Pulse grip and telemetric heart rate monitor
Burn rate calorie tracker
Soft Drop easy folding
9" Full Color Backlit LCD display
Bluetooth workout tracking
2.75" rollers
22" x 60" running surface
SoftDrop folding mechanism
Warranty: Frame 15 years; parts & electronics 5 years; labor 2 years

The Buzz
UPDATE: In 2021 Bowflex discontinued the BXT216 and BXT116 in favor of the all new 10 and 22 models. Read reviews of the latest Bowflex Treadmills here.

The new Results series line consists of the BXT116 and the up-level BXT216 models.  Both features some nice upgrades from the previous Bowflex treadmill line:  the 3 series, 5 series and 7 series.
The BXT216 is a step up from the BXT116, with many improvements making it worth the extra few hundred dollars. It is probably most similar to the 7 series, which was the top of the line model several years ago.  But this one has some nice improvements that may make it more appealing.
For starters, it has a more powerful 4.0 CHP motor, up from 3.5 on previous models.  That will make it even better for joggers or runners as it will be able to better accommodate their needs.
A carryover from the company's popular Max Trainer is the Burn Rate Console, also available on the BXT116, a cool dial showing you how many calories you are burning per minute.  It also gives you target zones based on your inputs.
The console is brighter and larger, at 9", and the belt it also wider.  At 22" x 60", it can more than accommodate taller and larger users, giving them more room to open up their stride.
You get a diverse amount of programs on the Bowflex BXT216, 11 in all, which gives you different workouts based on your desired fitness goals.  You can also track all of your workouts via Bluetooth, something that wasn't available previously.
Another new feature is the CushionTech Deck, which you may have guessed from the name is an advanced cushioning system that minimizes impact and helps prevent injuries.  This allows you to work out harder and logner without having to worry about any post-workout pain.
You have grip and wireless heart rate monitoring, a media rack, USB port, Soft Drop easy folding and a 400 lb. max weight capacity.
OK that all sounds great right?  Well it is, but there are a few drawbacks to be aware of.  Although the parts and labor warranty have definitely improved from previous models, the frame warranty is only 15 years, which isn't ideal.
Most treadmills in this price range, $1000-$2000 on sale, come with a lifetime frame warranty.  But this shouldn't be too much of an issue, especially with the bumped up parts and labour portions of the coverage.
What We Say
The new Bowflex BXT216 is definitely better than the 7 series of a few years ago, with a stronger motor, better cushioning system, larger deck, tracking capability, higher max weight capacity and an improved warranty.
It's a nice choice in the price range if you can get it for around $1799 or so.  Take a look at the BXT116 as well as it is a few hundred dollars cheaper...however with the upgrades this one is a better choice in our opinion.