Bowflex Max Trainer Reviews - the M3, M6 & M9

Yes, we know they're not treadmills...but the Bowflex Max Trainer has become so popular and we've received so many questions about it that we decided to have our experts review it.  
Here is everything you need to know about these hybrid cardio machines, so you can make an informed decision about whether or not to buy one for your home gym.
Let's get right into our review to see what these unique trainers are all about...
A Brief Overview of the Max Trainer Lineup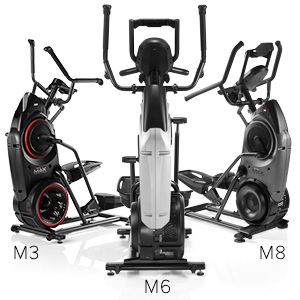 If the Bowflex TreadClimber is like three machines in one: treadmill, elliptical and step machine, the Max Trainer is like two: a step machine and an elliptical combined.  
It offers all of the advantages of both, delivering an effective, low impact cardio workout in a relatively short amount of time.
The main allure of the Max Trainers, which consist of the entry level M3, the mid-level M6, and the top of the line M9, is the fact that you can get a great workout in without having to spend a long time working out.  
The company claims you can burn as many as 2.5x the calories per minute than you can on other cardio machines, including the treadmill, stepper and elliptical trainer.  
So it's very appealing for those who either don't have the time or simply don't want to spend hours working out.
All of the machines offer the patented 14-minute Max Interval workout, a unique series of high intensity and low intensity movements that get your heart racing and the calories burning.  
It's the only workout option on the entry level M3 Max Trainer, but the other two models have additional workouts that you can choose from.
Here is a comparison of those three models to help you choose the right one...

| | | | |
| --- | --- | --- | --- |
| | Max Trainer M3 | Max Trainer M6 | Max Trainer M9 |
| Price | $999 | $1,699 | $1,999 |
| Resistance | 8 Levels | 16 Levels | 20 Levels |
| Bowflex JRNY | No | Yes | Yes |
| Heart Rate Monitoring | Grips | Grips | Grip & Armband |
| Bluetooth Tracking | No | Yes | Yes |
| User Profiles | Up to 2 | Up to 2 | Unlimited |
| Size | 49"L x 26"W x 64.7"H  | 46"L x 26"W x 64.2"H  | 49"L x 30.5"W x 65.5"H  |
| Grips | Standard | Upgraded | Commercial |
| Pedals | Standard | Upgraded | Performance |
| Warranty | 1 year | 2 years | 3 years |
Bowflex Max Trainer Model Comparison
According to our Bowflex Max Trainer reviews, the M6 is the most appealing of the three models for several reasons.  
Although all three gave us a similar workout, the M6 has the ideal combination of features and capabilities.
If budget is an issue, the M3 is just fine to get a fast intense workout, burn calories, work up a nice sweat and tone up the muscles.  But it only has the one built in workout and no Bluetooth capability to keep tabs on your progress.
The Bowflex M6 gives you twice the resistance levels, additional workouts, an interactive backlit display, upgraded pedals and grips and a better warranty.
The Bowflex M9 kicks it up with even more resistance levels and two additional Max Interval workouts (Max 7 and Max 21), as well as a touch screen, but it's a bit more expensive than the M6.
As such, the Bowflex Max Trainer M6 is the best choice of the three.
How Does the Max Trainer Compare to the Treadmill?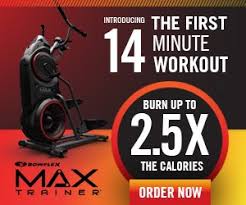 Of course, we are a treadmill site so we have to compare everything to our favorite cardio machine. :)
Let's start off with the pros...
The Bowflex Max Trainers offer a lower impact workout than your typical treadmill, especially since you are not jogging or running, but rather walking in an elliptical motion.
They also enable you to burn more calories per minute, if the company's research is accurate.  So if you compare 14 minutes on the treadmill with 14 minutes doing the interval program at the same speed, you will burn more calories on the Max Trainer.
The Max Trainer definitely gives you a better upper body workout, the same advantage that a traditional elliptical has over the treadmill.  With its moving arms, you can work the biceps, triceps, shoulders and core.
Another big check in the plus column is the space saver design.  At only 49" in length it's almost half the size of your typical treadmill, taking up much less room in your home gym.  For those with limited space, a Max Trainer may be your only option.
Those are some very strong pros, but let's take a look at the cons...
Treadmills offer a lot more versatility.  If you are a runner especially, the Max Trainer might not be your thing.  
The treadmill allows you to walk, jog or run, as well as raise the inline up to 10, 15, 20 or more degrees as well as decline on some machines.
Treadmills tend to have more programming and more advanced capabilities.  
Although the Burn Meter is very cool, the displays on all of the Bowflex Max Trainers are basic with limited functionality.  
Similarly priced treadmills tend to have more workouts (especially compared to the M3), advanced displays (touch screens on some models) and even internet access (especially at the price levels of the M6 and Max Total)
Compared to similarly priced treadmills, the warranties on the Max Trainers are lacking as well.  
The M3, M6 and M9 come with 1, 2 and 3 years coverage, respectively.  Compare that to lifetime frame and motor and 2-5 years parts on most treadmills in the price range, and you can see how they come up a bit short.
Max Trainer Reviews - Bottom Line
If you're looking for a way to burn a lot of calories in as short an amount of time as possible, our reviews show that the Bowflex Max Trainer may be a good option for you.  
It gives you all of the benefits of a traditional elliptical machine, with the added cardio and leg muscle targeting of the step machine, without the impact on your joints.
It's not a replacement for a treadmill, as it offers an entirely different type of workout, but it can be a good addition to your home gym just to change things up a little.
As we mentioned, the Max Trainer M6 is going to be your best bet of the three, but if budget is a concern the M3 will suit you just fine.  
Also, opt for the additional coverage on top of the provided warranty as it will give you peace of mind.

---