The Vision TF40 Has a Longer Running Deck and Impressive Incline
 The TF40 from Vision Fitness is a sturdily-built, foldable treadmill. Made with high-quality components, the machine is packed with an array of exciting features and is built to last long.  It's a nice upgrade to the TF20 model.
The Machine
The Vision TF40 offers you three different console options – Classic, Elegant+, and Touch+. The lowest priced Classic console has an LED display and five built-in training programs. The Elegant+ has a 10" touchscreen display and 15 built-in programs. The highest-priced Touch+ has a 15.6" HD display and 19 built-in programs.
The Elegant+ and Touch+ consoles come with features like Sprint 8, ViaFit, and Virtual Active, which the Classic console lacks. All three consoles have USB charging ports.
Let's take a closer look at the specs...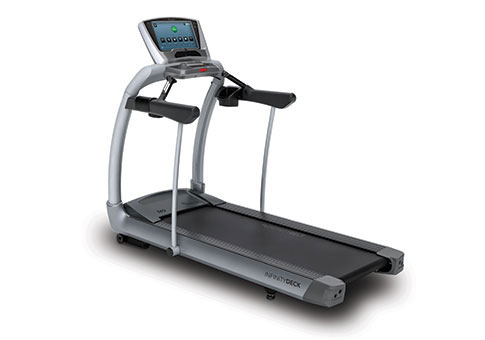 3.0 CHP Johnson Drive motor
0.5-12 mph speed
0 - 15% Incline
InfinityDeck Cushioning
Up to 19 workout programs
2-ply maintenance-free belt
20" x 60" running area
Contact grips and wireless heart rate
400-lb. Max User Capacity
Warranty: Lifetime frame, motor, cushioning; 7 years parts, 2-years labor
Get the TF40 Treadmill On Sale Now at the Vision Fitness Store!
The Buzz
People seem to love the multiple console options – a highlight of all Vision Fitness products, including the comparable T40 model, which is the pretty much the same treadmill but doesn't fold. What is particularly appealing to customers is that they can choose a console based on their specific needs.
If you are a runner who just needs a basic console, you can choose the Classic LED console, which is also the cheapest option available. If you love interactive features, you can go for the Elegant+ or Touch+, both of which come with innovative technology like Virtual Active, ViaFit, and Sprint 8 to make your workouts more rewarding and efficient.
Virtual Active is a really cool feature which brings exotic locations from the American Northeast and Northern Rockies right into your workout room. You can sync your TV and treadmill using the Passport Player and watch the footage on your TV.
If you have a touchscreen console, you can watch it right on the console screen. The best part about the Virtual Active technology is that your treadmill's incline adjusts itself automatically to simulate the running terrain shown on the screen. You can even hear the ambient sounds in the background, which is quite amazing.
ViaFit is a workout progress tracking program which helps you get better, faster results by monitoring your progress constantly. At any point, you can log into your account and see how far you have progressed and how close you are to attaining your workout goals.
Sprint 8 is a HIIT (high intensity interval training) program developed by personal trainers to help you lose weight, boost your energy level, develop cardiovascular endurance, and improve muscle tone in eight weeks. A quick glance at user reviews shows that the program is a personal favorite of many people.
Yet another highlight of the TF40 is the Infinity Deck, which is truly a one-of-its-kind feature. What makes the deck unique is that its fibers are infused with wax, so it needs no lubrication. The deck is also designed in such a way that you have a soft landing zone with plenty of cushioning at the front and a solid push-off zone with little cushioning at the back. It absorbs shock much better than the standard treadmill deck and makes it easier for you to train without straining your joints.
The Vision TF40 has a longer deck than the TF20 treadmill, so if you are a runner you'll probably prefer this one.  It also has a more powerful motor.
The machine is very durable and can support up to 400 lbs. It also has great warranty – lifetime on frame, motor, and cushioning, seven years on parts, and two years on labor.
The only downside, as many critics have pointed out, is that you have to buy either the Elegant+ console or the Touch+ console to be able to make use of all the advanced interactive features. The Classic console does not have any of these features. It is fine if you just want a basic runner's machine, but if you want something more, you have to spend a few hundred dollars more.
What We Say About the Vision TF40
The TF40 is a solid treadmill with cleverly designed features. Like all Vision Fitness products, it requires very little maintenance and is extremely durable. Plus, you have an excellent customer support team to help you out if in case you have a problem with the machine.
With a sturdy build, user-friendly design, innovative features, and very good warranty, the TF40 outperforms most of the machines in its class. So, despite the high price tag, it is a great buy and gives you excellent value for your money. Highly recommended!
Show me other Vision Treadmills