The Vision T80 is the Top of the Line Commercial Treadmill
The Vision T80 is the high end model in the series, a commercial-grade treadmill like the ones you'll find in any high-end gym.  With a generous running deck, three console options and maintenance-free belt, this is a great option for those who can afford the hefty price tag.
The Machine
The T80 is commercial grade, with a reversible deck and powerful motor. You get three console options so you can customize your treadmill.  There's the basic Classic console, the Elegant + and the Touch +, each offering its own set of features and capabilities.
Let's take a look at the important specs...
3.0 CHP Johnson Drive motor
0.5-12 mph speed
0 - 15% Incline
InfinityDeck Cushioning
Up to 19 workout programs
2-ply maintenance-free belt
22" x 60" running area
Contact grips and wireless heart rate
400-lb. User Capacity
Warranty: Lifetime frame, motor, cushioning, 7 years parts, 2-years labor
Get the T80 Treadmill On Sale Now at the Vision Fitness Store!
The Buzz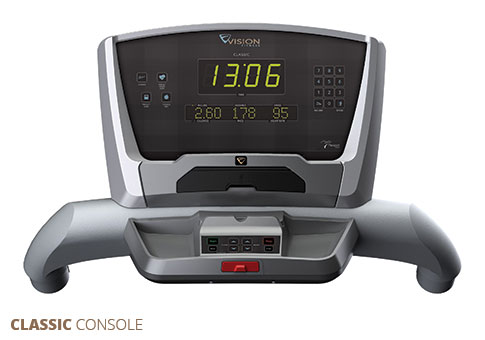 The first thing that strikes you when you assemble the T80 is its exceptionally sturdy build. It weighs 350 lbs and has a user weight capacity of 400 lbs. Every single component – from the smallest to the largest – is well-made and is built to last a lifetime. It is the very definition of a heavy-duty machine.
You can choose from three consoles – Classic, Elegant+, and Touch+. All three consoles have a USB charging port, a water bottle holder, a reading rack, and an accessory tray. If you are a beginner or a casual user, you can opt for the Classic LED console. If you are a commercial customer or if you are someone who likes interactive technology, you can opt for the Elegant+ or Touch+ console, both of which have Virtual Active, ViaFit, and Sprint 8 programs.
Virtual Active allows you to simulate outdoor running right from your training room. You can watch videos of various running trails and landscapes on your console screen while the incline changes automatically to simulate the terrain.
ViaFit makes tracking your fitness progress ridiculously easy. It uploads your workout data into your personal ViaFit account. You can log in any time you want to access your fitness data. You can also sync your account with the fitness apps and tools you already use and also share the data with your friends from various online communities.
Sprint 8 is a result-oriented training program that gets you in shape in just eight weeks. You can lose fat, gain lean muscle, and develop tremendous cardio – all in the span of eight weeks. Some of the users have mentioned in their reviews that they were able to lose up to 27% of their body fat in eight weeks, which is quite remarkable.
The 22" x 60" workout area, wider than that on the T40 as well as the folding TF40, gives you plenty of room for your elbows and is spacious enough to accommodate tall people with long strides.
The Infinity Deck, true to its name, requires no lubrication or maintenance and can last up to 21,000 miles. It also has excellent cushioning which absorbs the impact evenly and protects your joints even during grueling workout sessions.
The T80 also has heart rate tracking devices to help you stay in the right zone to reach your fitness goals faster. You can use the contact grips or the wireless chest strap, which comes free with the Elegant+ and Touch+ consoles, to measure your heart rate with great accuracy.
One thing that will definitely surprise you about the T80 is its whisper-quiet operation. The patented Johnson Drive System runs at very low RPMs and the machine stays virtually silent even at top speeds. It is quite amazing, considering this is a heavy-duty commercial treadmill.
So, is the Vision T80 a perfect treadmill? Not quite. One thing that we would have liked to see is the decline training option. Many other machines at this price point offer both incline and decline training options.
Also, the free wireless chest strap is available only with the Elegant+ and Touch+ consoles, not the Classic console. Many critics feel that the strap should have been included in the basic package itself.
What We Say About the Vision T80
The T80 Commercial treadmill is a powerhouse. With a strong frame, spacious training area, and powerful motor, it is built for heavy use. It has everything you expect to see in a high-quality treadmill – a full suite of features, user-friendly design, plenty of accessories, and great warranty.
The T80 is a perfect fit for a fitness club or gym. It is a tad too pricey for a home gym, but many people buy it anyway because it is just an exceptionally good treadmill.  Take a look at the T40 as well, or the TF40 if you need a folding model, as they are also great and less expensive.
The T80 requires virtually no maintenance, can handle the abuse of heavy running for years, and can be used by multiple users.

Also, Vision Fitness' customer support team is one of the very best in the industry. So, you can always rely on their team of experts to help you out in case of a technical problem.
On the whole, the T80 is one of the very best treadmills in its class or any other for that matter. If you can afford it, you cannot get a better machine for the price tag.
Get more info and special sale pricing on this treadmill here!