The Vision T9200 Deluxe Treadmill – The Value Just isn't There
The Vision T9200 Deluxe treadmill is a mid-priced machine with 2.5-horsepower continuous-duty motor, speeds of up to 10 miles per hour, and a variety of goal-oriented cardio programs.
The Machine
The $1799 Vision T9200 Deluxe treadmill comes with a blue backlit LCD display. The feedback shows: Elevation, Speed, Distance, Time, Heart Rate, Calories, Pace, Avg. Speed, and Heart Rate Percentage. For pre-set workouts, you get 4 classic, 3 HRT®, 3 goal, 5K and 10K courses, and 5 custom workouts. Also included is Vision's SPRINT 8 Program, which offers 20-minute workouts for fat burning and overall fitness results.
The features and specs on the Vision T9200 Deluxe model include:
2.5 HP Continuous Duty Motor
0.5-10 mph
0-12% Incline
20" x 54" belt
17 Programs plus Sprint 8
Contact Heart Rate Monitoring
325 lbs. max. user weight
Warranty: lifetime on frame, 5 yrs motor & parts, 1 yr labor
The Buzz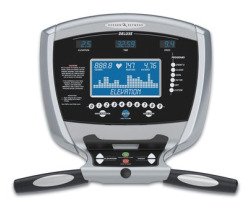 UPDATE: The Vision T9200 Deluxe treadmill has been discontinued and is no longer available.  Check out the latest Vision treadmills to find a comparable model. 
Experts and equipment pros give the Vision T9200 Deluxe treadmill some reserved endorsements for several things done well on the model, such as the 1" pre-waxed phenolic deck with 8 variable-durometer elastomer cushions, the expanded fitness training programs, and an attractive design.
As for the red flags, this model has a small motor and a short walking area — the 54" belt on this model is 6" shorter than many comparable machines. Despite the 5K and 10K training programs, the Vision T9200 Deluxe is not especially recommended for runners. Overall, there really is no single outstanding feature that makes this treadmill standout from the pack.
There have been a few favorable treadmill reviews for the Vision T9200 treadmill but we have to disagree. The reviewers offered a few good remarks about general appeal, yet for the $1,799 Deluxe Console, the value just isn't there ... ditto for the $1,999 Premium console model which offer AV ports for DVD/CD player, and full color LCD display with extra programs. Even more disappointing is the $1,499 Simple model, a striped down version with the same size motor and deck, but offers NO PROGRAMS at all.
What We Say
There are so many good treadmills in this price range that there is no reason to recommend the Vision T9200 Deluxe treadmill.
The bottom line is that it is overpriced. If you are looking for a decent walking treadmill, save yourself hundreds of dollars and look for a machine in the $800-$1200 range.
For a better quality and value treadmill in the $1500-$1800 range, read our review on the Sole S73 and see for yourself how much more treadmill you can get for your money.