The Proform Crosswalk Caliber Elite Treadmill with Upper Body Workout
The Proform Crosswalk Caliber Elite treadmill is another one of many ProForm models manufactured by ICON Fitness that will probably be replaced sooner or later by a newer version. We base our assumption on the statement from ProForm that this treadmill has a limited availability.
The Machine
The Proform Crosswalk Caliber Elite treadmill is ProForm's attempt at differentiating their treadmills from those of other manufacturers. Touted as "more than just a treadmill", the $699 machine comes with upper-body handles and adjustable resistance for a total lower and upper body workout. Here's what you get: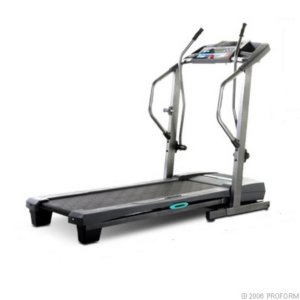 2.75 HP motor
0-10 mph speed
1.5 – 10% power incline
Upper body arms
Folding Space Saver design
EKG heart rate monitor
Back-lit display console
300 lbs user weight limit
17" x 53" running surface
4 workout programs
iFit® compatibility
10 year warranty on motor; 90 days parts, labor
The Buzz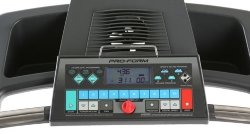 UPDATE: The Crosswalk Caliber Elite has been discontinued and replaced with all new models. Check out the latest ProForm treadmill reviews to find a comparable machine.
------------------
Fitness professionals aren't fond of the entire ProForm line in general. Their dislike stems from the inferior quality of the treadmill parts which is reflected in ProForm's paltry 90-day parts warranty. Some trainers do give kudos to the upper body handles that permit exercising arms and upper torso while using the treadmill.
Reviews from consumers who use the Proform Crosswalk Caliber Elite treadmill are balanced positive/negative. Consumers love the upper body workout which is cited as the main reason for the purchase of this treadmill.
Common complaints include the inaccuracy of the heart rate monitor and a very noisy fan (as loud or louder at high setting as the treadmill itself). Consumers also complain about ProForm's notoriously poor customer service which makes ordering parts a challenge.
What We Say
We do like the upper body workout and the treadmill's iFit® compatibility which you won't find on too many models in this price range. The ProForm Crosswalk Caliber Elite comes with two CDs and an audio cable to connect your CD player to the treadmill. You can listen to the motivational music and a personal trainer while the speed and incline automatically adjusts itself during your workout.
The ProForm Crosswalk Caliber Elite seems to have some great features when you compare the specifications. Buyers beware, though; ProForm's motor horsepower rating shows the total available horsepower (THP). That brings the actual continuous duty horsepower rating down to 1.75 CHP which means the ProForm Crosswalk Caliber Elite is okay for walking and the occasional sprint, but the treadmill motor is definitely not powerful enough for the serious runner.
Final verdict: The ProForm Crosswalk Caliber Elite treadmill seems to be the only treadmill in this price range with an upper body workout. If you are buying because of this feature and you can live with the 90-day parts warranty then take your chances. Alternatively, take a serious look at an elliptical trainer.