The ProForm 6.0 GSX Treadmill – A Trusted Name, But Is It a Model to be Trusted?
The ProForm 6.0 GSX treadmill might not keep up with your workout routine, even though ProForm treadmills are certainly the mainstay in many a home gym and workout center.
The Machine
The ProForm 6.0 GSX treadmill has been put together by one of the biggest names in the fitness field, a name that builds other kinds of equipment, like elliptical trainers and weight lifting systems. However, the new addition to their treadmill line seems to be a beautiful package with problems inside: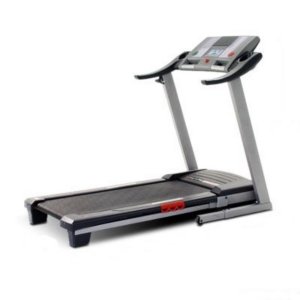 2.75 hp motor
19" x 50" running area
SpaceSaver design
300-lb. capacity
AirTek™ Impact Absorption
6 Built-in Workouts
QuickSpeed™ Control
0-10 mph
Power Incline Control
0-10% Incline
EKG™ Grip Pulse Sensors
CoolAire™ Fan
ClearView™ Display
10 year motor Warranty
90 day parts and in-home service Warranty
The Buzz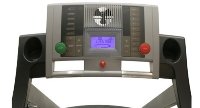 UPDATE:  The ProForm 6.0 GSX is no longer available.  To find a comparable treadmill check out the new full lineup from ProForm on the company site to see which model appeals to you.
At first glance, this new treadmill from ProForm offers you more technology than you probably thought to be possible – Power Incline Control, QuickSpeed Control, EKG Grip Pulse Sensors, ClearView Display and a CoolAire Fan. But what Proform isn't telling you is that the Proform 6.0 GSX treadmill model might look like it has a lot of bells and whistles, but the overall construction isn't all that impressive.
With this particular model, we found that the materials used were inferior and of a lower quality than the price might indicate. Some consumers have commented that they felt that the overall treadmill felt unsupportive, even hazardous when they were exercising at faster rates.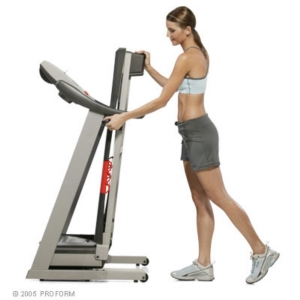 On the other hand, many people love their ProForm treadmills and continue to buy them year after year, citing the impressive technology as the main selling point. However, it's good to note that with the ProForm 6.0 GSX, you can't use the heart rate monitor unless you're standing on the foot rails, nor can you enter in your age or weight with this particular model – many experts were confused by this non user friendly construction.
Experts will concede that the Proform 6.0 GSX treadmill's 300-lb capacity and 19 inch by 50 inch treadbelt allow a larger number of people to find this treadmill's dimensions comfortable while running and walking and the AirTek™ Impact Absorption system provides a quiet and even surface for their exercise plans.
With the 90 day parts and in-home service warranty, most experts feel that ProForm covers any unexpected initial problems and the 10 year warranty on the motor is one of the longest in the treadmill business.
What We Say
If you're looking for a treadmill that will provide you with a good solid running surface, the ProForm 6.0 GSX treadmill can certainly give you that – especially for the price. However, if you want to measure your exercise progress in terms of heart rate in relation to your age and weight, you might need to find a pricier model.
Show me other ProForm Treadmills