The ProForm 5.0 Crosstrainer Treadmill – an Innovative Concept
The ProForm 5.0 Crosstrainer treadmill comes with a pair of 2 lb. hand weights and programming which signals you when to incorporate an upper body workout to your walking workout. This crosstraining targets the arms, shoulders and back; areas that don't get enough exercise on people who are avid treadmill walkers.
The Machine
At $799 MSRP, this ProForm 5.0 Crosstrainer treadmill offers an attractive console with something they call GloZone™, a multi-color backlit screen in which you pick the colors that change as your intensity level rises and falls.
The display shows speed, time, distance, pace, pulse, carbs and calories burned. The ProForm 5.0 Crosstrainer also has a user weight input feature to allow the onboard computer to calculate actual calories burned based on your weight and exercise, rather than giving you an average estimate. The treadmill's list of features includes: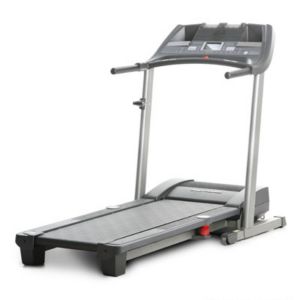 2.0 Mach Z™ Motor
0-10 mph Precision Quickspeed™ Control
0-10% Power Incline®
19" x 55" treadbelt
8 Workouts; 4 Crosstrainers and 4 Weight Loss
Intermix Acoustics™ Sound System; Interplay™ Music Port
Dual-Grip EKG™ Heart Rate Monitor
300 lbs. max. user weight
2 lb. hand weights
CoolAire™ Fans
ProShox ™ Impact Reducing Cushioning
12 Year Motor Warranty; 1 Year Parts and Labor
UPDATE:  The ProForm 5.0 CrossTrainer has been discontinued.  Check out the new ProForm lineup here to find a comparable machine.
The Buzz
Ask any honest treadmill repairman or salesperson and they'll tell you the quality of ProForm treadmills compared to competitor models is sub par. The motors burn up, the belt drives have smell issues, or the belt isn't properly lubed coming out of the factory, these are the types of issues that keep coming up.
The ProForm 5.0 Crosstrainer treadmill has a number of attractive features but the problems with mechanics and plastics parts - things you don't see - are ever present.
Users of the ProForm 5.0 Crosstrainer who did their homework will likely acknowledge that ProForm uses some cheap treadmill components (such as plastic roller bushings) and have serious quality issues in other areas, but went ahead and bought one anyway. Some of those users have had no problems at all.
Small people can get fine results walking on these machines (we can't stress enough that a $600 treadmill simply isn't a runner's treadmill) and you may be one of these lucky ones, but be advised that if you do have problems, ProForm has a pretty bad reputation for customer service.
What We Say
The ProForm 5.0 Crosstrainer is a good but not great machine. It's an attractive unit with an innovative concept of including a set of hand weights and instructions for upper body workout. But the repair history on ProForm treadmills and the lack of good customer service in the last few years shouldn't be ignored.
For the same money, we suggest you take a look at the Smooth 5.25 or the Spirit Z8 which have better motors and overall quality than the the ProForm 5.0 Crosstrainer treadmill.