The NordicTrack X5i Incline Trainer – Killer Incline Workouts
The NordicTrack X5i Incline Trainer is one cardio machine that isn't designed for running. And with a small motor and a weak warranty, the X5i doesn't seem to be designed to be running for more than a year.
The Machine
The NordicTrack X5i Incline Trainer comes with the Solaris™ Illumination Control console which tracks your speed, time, distance, pulse, and calories burned, while the 7x30 scrolling CrossTrainer™ display shows your workout graphically. The pre-programmed workouts include 9 Quick Calorie burners and 9 Calorie Goal workouts. It also features a unique Random Trail Generator, which incorporates the workouts and rearranges them for challenging new workouts.

The specs on the NordicTrack X5i include: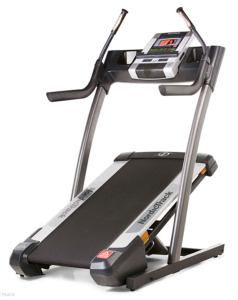 2.8 HP DurX™ Commercial Motor
0.5 - 10 mph 1-Touch™ Speed
0% - 40% 1-Touch™ Incline
0% -3% 1-Touch™ Decline
20" x 55" Tread Belt
18 Programs
iFit® Live Compatible*
MP3 plug-in Compatible
Intermix Acoustics™ 2.0 Speakers
EKG Grip Pulse, Heart Rate Monitor
Reflex™ Cushioning
CoolAire™ Workout Fan
300-lb. User Capacity
Warranty: Lifetime frame & motor, 1 year parts & labor
*iFit Live module sold separately. Wireless network required.
The Buzz
UPDATE:  The X5i Incline Trainer is no longer being produced, replaced by a whole new lineup.  Check out our expert's top Incline Trainer picks here.
The NordicTrack X5i Incline Trainer offers Reflex™ Cushioning for shock absorption with a deck that responds to your movements, and an advanced 40% incline / -3% decline range for terrain simulation. The large 2.5" precision-machined rollers help to reduce noise.
On the downside, the heart rate monitor tends to be inaccurate, and the 300-lb user capacity seems overstated by about 100 pounds. Taking everything into consideration, pro equipment insiders recommend that these incline/decline treadmills, while unique, shouldn't be purchased by runners. The NordicTrack Incline treadmill is a trainer for lightweight walkers who also like stair-stepper machines; the X5i will give you the best of both worlds.
Treadmill reviews have been thrilled with the killer workout these incline machines provide. Unfortunately, this innovative incline trainer design has a limited appeal to the mass market of people looking for a quality treadmill with no or few repair issues.
The standard warranty on the NordicTrack X5i is just one year on parts and labor, so you can expect it to break down in about… a year and a day. (The motor will be covered but not the in-home labor.)
Another issue is that it offers iFit Live compatibility, but you must purchase the iFit module and a 1-year subscription ($129 year) to take advantage of the workouts with personal trainer Jillian Michaels, as well as the virtual running all over the world through Google Maps, access to a personal log and calorie counter, and the rest. The X7i model features iFit Live as a standard, not optional, feature.
What We Say
The NordicTrack X5i gives you a great workout – and that's a fact. It's also an industry secret that the repair frequency on these incline trainers for the past few years has raised many eyebrows.
It has three weak areas: the motor and incline motor are both underpowered and tend to burn out (especially with larger users), and the treadmill decks have been known to break.
Kudos to NordicTrack for improving this motor from 2.0 to 2.8 hp for the 2010 model, but it is still too small for the great stress that walking at an ultra-high incline puts on a treadmill motor.
The NordicTrack X5i Incline Trainer is not recommended until they put larger motors in these units. For $1,599 you can get a much higher quality standard treadmill.
Show me other NordicTrack Treadmills