Vision Treadmills – A Fine Line of Machines

Vision Treadmill Reviews
Vision treadmills are sold by Johnson Health and Fitness, one of the largest exercise equipment manufacturers in the world. The company is based in Wisconsin. If you or one of your kids ever owned a Trek® bike, then you're familiar with at least one excellent Vision Fitness product. They also make ellipticals, stationary bikes, and strength training equipment.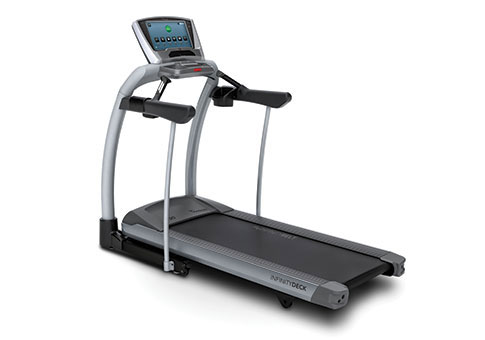 Award Winning Machines
Vision Fitness is an innovative treadmill maker in many ways and their awards are well earned. Their specialty store retailers in North America consistently rank them at the top in terms of product design and customer service.
The company has also received numerous Best Buy awards for several of their treadmills over the years.
The current lineup includes four models. You have the entry level TF20, a folding treadmill with a 2.75 CHP motor, 15% incline, up to 19 workouts depending on console choice and wireless heart rate monitoring with strap included.
Stepping up you have the T40 non-folding, which improves on the TF20 with a 3.0 CHP motor, and a larger running surface.
Next you have TF40 folding, which is basically the same as the T40 except in a foldable version.
At the top of the heap you have the T80 Commercial, a non-folding treadmill similar to the others but built gym-tough with a reversible belt to withstand years of heavy pounding.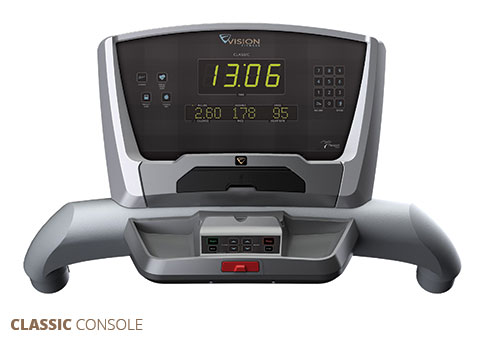 Priced at different levels with an option of a Classic, Elegant +, or Touch + console design, the customer can pick the features to include on their own machine, starting with either a fold-up or full platform design. Vision treadmills are customized when you order one; prices range from entry level machines at $1,999, and go up to club-quality units that retail for $3,799.
Comfortable, Cushioned Decks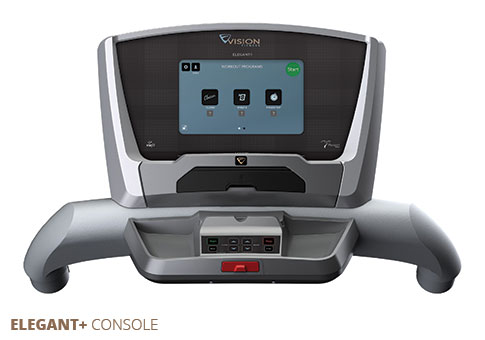 One difference you'll find on Vision Fitness treadmills from some other brands is that they use low-maintenance, 1-inch, pre-waxed, Phenolic decks. The wax is absorbed into the belt and acts as a lubricant between it and the deck over hundreds of hours of use so there is no need to add silicone. (The deck can easily be re-waxed if needed.) Vision's upper-end treadmill models come with reversible decks for even longer life.
Users will also enjoy the thick 4.4 mm orthopedic treadmill belt that comes standard on all Vision Fitness models, as well as the 8 variable-durometer elastomer cushions which act as extra cushioning on the deck for the foot strikes and push offs.
Vision also offers exclusive technologies such as Sprint 8, a science based 20 minute workout that delivers incredible results; ViaFit workout tracking (also available on some Horizon models); and Virtual Active, which offers high definition videos that make you feel like you are actually running in those locations.
What the Pros Say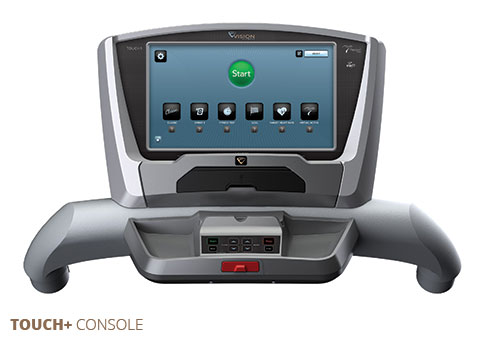 Vision Fitness faces some stiff competition in all price classes. Reviewers say that their entry level treadmills are above average, but the elite models are going against names like Precor, Landice, True, and Life Fitness. It didn't help when, in 2006, Vision Fitness got a black eye by having to recall one of their low end treadmills due to a sudden lurch in speed after it was in use for 30 minutes.
Buy Online; Delivered Locally
We like the Vision treadmills in terms of reliability and overall quality, especially with the new console choices. This is a fine line of machines that can be ordered online from Vision Fitness, and it will be delivered to your home and set up by their local licensed fitness retailer.
Click here to write your own review!
Vision Treadmill Model Reviews
Popular Models
Vision TF20 Folding - the entry level model ideal for walking and jogging with nice features such as Sprint 8 and Virtual Active.
Vision T40 Non-Folding- packed with great features like ViaFit, Passport and Sprint 8, the T40 is a great choice in the $2000+ category.
Vision TF40 Folding - everything you get in the T40 model, except with a foldable frame.  A great choice with tons of great features and console options.
Vision T80 Non-Folding - the top of the line commercial model is the gym-quality version if you're looking for a rock solid treadmill that will last through years of heavy usage.

---