The Sole F65 Treadmill – An Upgrade of the Popular F63
The new Sole F65 treadmill upgrades several features of the base F63 but keeps cost in line by eliminating a few of the extras, making it a great choice in the price category, especially when on sale at around $1299.
The Machine
The Sole F65 improves upon an already excellent folding treadmill (the F63) by increasing the power of the motor, increasing the deck size and adding a more generous 7.5" LCD console display.
The frame is sturdy and the belt is cushioned to reduce impact significantly.
Let's look at some of the best features...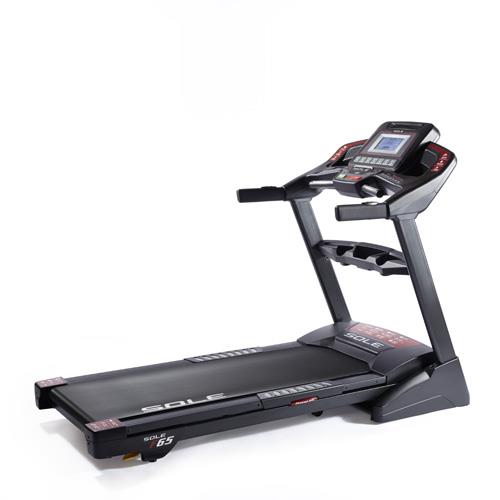 3.25 hp motor
Speed: 0.5 to 12 mph
Incline: 0-15%
Running surface: 22"x 60"
2.5" rollers
Bluetooth technology
10 programs
Pulse grips for monitoring heart rate; compatible with chest strap
MP3 compatible sound system
Two cooling fans
7.5" LCD console display
Weight capacity: 350 pounds
Overall dimensions: 57"x 37"x 82"
Warranty: Lifetime on frame; lifetime on motor; 3 years on deck and electronics, 1 year on labor

The Buzz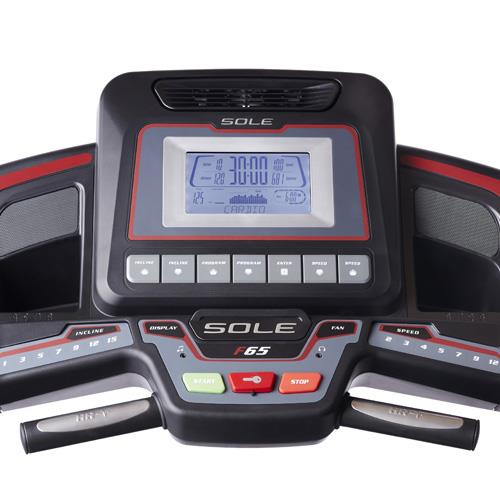 Many reviews of the Sole F65 treadmill have noticed the obvious - that this folding treadmill is a good machine for the price point that tweaks some of the features of their incredibly popular F63.
This is an excellent treadmill if you're looking for Sole quality but simply can't spend $2000 or more for in-home workouts. Reviewers love the beefed-up, 3.25 hp continuous duty motor and they appreciate the slightly increased weight capacity at 350 pounds.
A few users noticed a definite difference in performance, attributing a smoother run to the generously sized 2.5" rollers. The only reservation some users have had is a familiar one with the Sole treadmill lineup - a lack of variety in the number of programs or routines.
Although ten is respectable, there are other treadmills at this price point that offer more variety.
Still, you get a lot of great features on the F65: a large, well-conditioned deck, a 350-lb weight capacity, a nice display, up to 15 levels of incline, wireless heart rate monitor included for free and a generous warranty.
One of the newest features on the Sole F65 is Bluetooth technology which allows for workout tracking. This is something that users have wanted for quiet some time, as more and more companies, such as NordicTrack, offer tracking and a host of other interactivity on their treadmills and ellipticals.
Now that Sole has that capability their cardio machines are more appealing than ever before, especially since they have not increased their prices.
What We Say About the Sole F65
The Sole F65 may become the new favorite treadmill in the Sole line-up due to some refinements to the oversized, 7.5" console. It's easy to read and features a peak and valley graph and iPod docking station to keep you entertained while you're working out.
The incline can be raised up to 15%, which can really whip your butt if you're used to a more standard 10%-12% incline.
Despite having fewer programs than a few other brands, the Sole F65 treadmill has more than enough variety for in-home users who are using it for health or fitness reasons but aren't planning on entering an Ironman or triathlon.  
And now with the new Bluetooth technology, you can sync your workouts to your favorite fitness apps for tracking and sharing...a nice addition.
Also take a look at the up-level F80 if you want a bit more.  It's only a hundred dollars or so more expensive and has some appealing features.